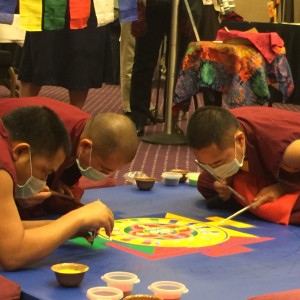 These past few weeks my schedule exploded into chaotic craziness. Though I love spring, this time of year overwhelms me as I tend to say yes to too many commitments. On top of all the madness, we leave this week for a highly anticipated vacation. I am sooooo ready… but sooooo behind… all at the same time. Stressed and scattered is my song.
Do you know Sisyphus? In Greek mythology, Sisyphus was condemned for an eternity of rolling a boulder uphill then watching it roll back down again. That is how I feel about my endless to-do list. For every two items I scratch off the list, four more appear.
I became acutely aware of this unsatisfactory and unrelenting tension when I attend last week the Spiritual Director International conference in Louisville Kentucky. I will write more about this wonderful interactive and peaceful conference on Thursday but wanted today to share with you the Tibetan Sand Mandela.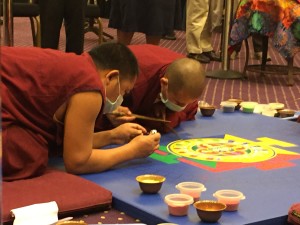 Four Tibetan monks chanted and prayed – in the middle of the noisy book and resource selling area. Yet they remained centered and unruffled. Respectful and reverend. Creative and peaceful. Focused on the work before them.
The mandala ceremony began with the consecration of the site through chanting mantras accompanied by flutes, drums and cymbals.

Then they begin the construction of the mandala by drawing of the design on the base, or tek-pu. The monks measure out and draw the architectural lines using a straight-edged ruler, compass and ink pen. The mandala is a formal geometric pattern showing the floor plan of a sacred mansion.

Once the diagram is drawn, we watched them place grains of colored sand painstakingly into place. The sand is poured onto the mandala platform with a narrow metal funnel called a "chakpur" which is scraped by another metal rod to cause sufficient vibration for the grains of sand to trickle out of its end.  The two "chakpurs" are said to symbolize the union of wisdom and compassion.
They leaned in and slowly with intense concentration created over the three days of the conference a colorful, intricate sand Mandela.

During the closing ceremony, the monks dismantled the mandala, sweeping up the colored sands to symbolize the impermanence of all that exists. The sand was then poured into the nearby Ohio River so the "waters carry the healing energies throughout the world."
Wow. What a lesson in how to approach my life work. My life as a whole. Watching them stirred within me some lessons:
Start and finish everything with prayer.

Remember to breath. Deeply.

Honor my word of the year – "stillness."

Treat all details – even the tiniest specks with reverence.

Focus on what is right before me.

Ignore the confusion and noisy chaos surround me.

When I concentrate on the simple, the complex will take care of itself.

Let go of what is no longer working for me and only take on where God is calling.

Create better boundaries. The monks' first step after prayer was to draw clean precise edges of their work. (Will I ever learn to not cross my preset borders?)

Remember the Sabbath and keep it holy.

Be gentle with myself and allow myself rest.

Smile and be grateful for all that I have right now.
"Within you, there is a stillness and a sanctuary to which you can retreat at any time and be yourself."
~Hermann Hesse
Slow down and everything you are chasing will come around and catch you.
John De Paola 
There is more to life than increasing its speed.
– Gandhi
When I am overwhelmed, you alone know the way I should turn.
Psalm 142:3, NLT
Cast all your anxiety on Him because He cares for you.
1 Peter 5:7
My grace is sufficient for you, for my power is made perfect in weakness.
2 Corinthians 12:9
I am still pondering and processing all that I saw and learned at the conference. I am soaking in wisdom and new ways of living. I feel alive, renewed and open. I am grateful to God for teaching me. Life sure is full of lessons, isn't it?
What life lessons have you learned lately?