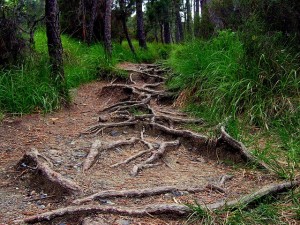 My husband and I camped out west for three weeks last summer seeing many of beautiful national parks. While we traveled, enjoying the trip, my perennial backyard garden grew and grew unsupervised. Since no one 'deheaded' the plants, many went to seed and multiplied huge new root systems. With a new growing seasons starting, I now have a jungle instead of a garden.
Though I love fresh mint in my ice tea, the spring batch is producing enough already to flavor a Pacific Ocean supersized glass. Sometimes too much of a good thing is not healthy.
Did you ever watch "The Trouble with Tribbles" on the old television show Star Trek? The more they killed the fuzzy little fur balls, the more they multiplied. Like the tribbles, my lilac bush decided to reproduce itself, sending up millions of shoots. Cutting them all back last year must have angered the plant as it definitely is seeking revenge this spring.
I love my black eyes Susans which have expanded their roots and are showing new sprouts in new areas by the fence. Midsummer should be beautiful in that section of the garden.
What has this taught me about my spiritual roots?
Like the mint, sometimes too much of a good thing is not healthy. In my recent garden class, Cort taught us to dig up plants that have tendencies to spread like mint, and rebury it surround by a bottomless 15 inch plastic pot with the rim just above the ground. Allow it to grow but give it boundaries.
Solitude is a spiritual practice which can feed the soil but too much solitude may not lead to the best growth. I have a tendency to isolate myself too much, forgetting God gave us community also. Like the mint, I need to allow solitude its place, but with a protective boundary. I can enjoy solitude if contained/balance with community.
What about those endless shoots spreading under my lilac bush? The main trunk of the bush will be rob of its nutrients and not be as healthy if I let the new sprouts continue to grow. Cutting back makes for a stronger trunk.
I love to journal and have experimented with various forms of journal keeping. But I know myself and have learned the main method that spurs my growth the most is the plain old lined blank book. Once I cut back of jumping from one type of journaling to another and concentrated on just plain writing, my journaling became stronger and deeper. I was less focused on the method and more on listening to God. I was healthier spiritually without so many useless sprouts.
And my productive black eyed Susan reminds me of my prayers. I just let them go, grow and glow. Scattering them throughout my garden of life makes my world more beautiful and the fragrance of my prayers hopefully bring glory to God.
Know the roots of your spiritual life. Proper care of the root system will bring health to your life's garden.
All things must come to the soul from its roots, from where it is planted. Saint Teresa of Avila