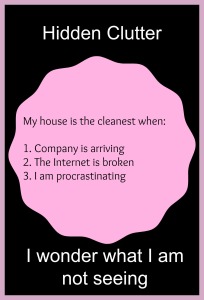 A tip from my Weight Watcher friends is to put the three-pound weights on my desk where I would see them readily and use them more often. While waiting for a video to load on the computer or the printer to print, I could exercise. Great idea!
I tried it. It worked for the sum of one day. Then my eyes quit seeing the weights on my desk, hidden among the clutter or amid the normal environment of my desk. Even in plain sight, I never thought of them.
On a side note, one lady at the Weight Watchers group said she finally put her dumbbells in her microwave. She has to remove them every time she uses the microwave and then uses them more often. Mmm, don't think I will try that one.
Hidden clutter. Hidden in plain sight but not seen.
I read an blog post a few weeks back titled, "The Clutter We Rarely Notice."
My desk may look messy but I can tell you where everything is. I can have a place for everything and still have clutter. My eyes soon only see what stands out, what is new, and I may even tuck away a few things, deep down I don't want to deal with right now. Often I just forget that must have book or the article I printed to read later. Later never comes and I am surrounded by paper 
My house is cleanest just before someone comes to visit. Or the Internet isn't working. Or times I postpone my writing and decide to clean the toilets instead. Really?
All this thinking and observing my chaotic clutter has me pondering my spiritual house too. To be honest it is cleanest just before I go visit my spiritual director. I assess where I am, how I am praying, how I am experiencing God. Just before I see her or my spiritual direction group forces time for reflection. When I don't make time and space for that opportunity, spiritual clutter takes over.
I wonder what I have tucked away spiritually, conveniently forgotten, hidden under the mess and to dos of every day living.
Spiritual clutter is when you don't reflect and live mindfully. You may find yourself filling your life more mechanically, doing activities that do not bring you joy, holding on to belief systems that no longer serve you, or being in environments that are not supportive. Maybe it is a belief from childhood that I know is longer true. For many of us that may be the image of God – a mean, stern judge.
Is there too much noise or old habits that fill the spaces we should empty for God? Do the dreams planted deep inside me by God stay dormant covered by doubt debris and false beliefs? Do I hoard a junk drawer packed with worries?
Why do we cling to things that are no longer useful or beneficial? Is it fear of letting go? Fear of unknown new identity?
Maybe it is the self-belief that I am not worthy to be called a child of God.
Since I read that article about hidden clutter in our homes, I have been asking myself these questions.
The longer I am on this spiritual journey the more I think life with God is not about getting more, doing more or learning more. Growing spiritually is more emptying and letting go, peeling off one layer at a time of years of accumulation of sin, misconceptions and expectations. And clutter.
Finding and clearing my hidden clutter will allow God's light to shine more brightly through my life. 
Join the conversation – what do you think about spiritual clutter? How do you manage it? Let's talk.