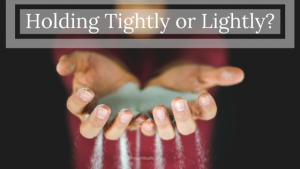 Are you holding tightly or lightly? As I grow older, I want less stuff. I am decluttering my basement, my closets, my collections, and my life.
I wrote about the weird-sounding new trend called Swedish Death Cleaning on this post and when I saw the following quote, I thought once again about living a life more unattached than attached and living in an age of accessing vs possessing.
"A reporter for TechCrunch recently observed, "Uber, the world's largest taxi company, owns no vehicles. Facebook, the world's most popular media owner, creates no content. Alibaba, the most valuable retailer, has no inventory. And Airbnb, the world's largest accommodation provide, owns no real estate. Something interesting is happening."
Indeed, digital media exhibits a similar absence. Netflix, the world's largest video hub, allows me to watch a movie without owning it. Spotify, the largest music streaming company, lets me listen to whatever music I want without owning any of it. Amazon's Kindle Unlimited enables me to read any book in its 800,000-volume library without owning books, and PlayStation Now lets me play games without purchasing them. Every day I own less of what I use.
Possession is not as important as it once was. Accessing is more important than ever."
Kevin Kelly in the "Inevitable"
This quote cascaded me into a tumble of thoughts and reflections about what we hold onto and what waits for us when we trust God instead of all our possessions.
Holding Tightly or Lightly our Attachments
St. Ignatius called anything that hinders us from growing closer to God or doing His will a "disordered attachment." These could be good things, just not in the right priority.
What fills my hearts first instead of God? The list is endless.
Physical things – like loving my house or new car. My computer and smartphone. My comfort items and well stocked cupboard.
Feelings: clinging to self-pity or discouragement or anger instead of love and faith. My expectations.
Childhood scars and fears tiptoeing into my thoughts and behaviors.
Holding tightly to a pastor, and the way we "used to do things."
My image of God. My theology. The context in which I view the world – white middle-class righteousness.
How I think others should act/feel/think.
"Getting over a painful experience is much like crossing monkey bars. You have to let go at some point in order to move forward."
C.S. Lewis
As we grow spiritual any time, but especially during Lent it is appropriate to ask what am I clinging instead of God?
Time to open my eyes and heart and seriously listen to God, letting his light shine on what else needs to go. What am I holding tightly instead of lightly?
[bctt tweet="What am I holding tightly instead of lightly? Jean Wise" username="Jeanwise"]
The Age of Accessing and Possessing
The quote at the beginning of this post lingers in my heart. We are living in a time of unprecedented access to instant information, tantalizing tips and tools, and unawareness of our addiction to media of all types. We can access any bright shiny object that pops into our vision and distracts us from our mission.
Possessing does the same thing but when surrounded by clutter and collections – at least I visibly can see what I am clinging to. I know what to let go and can see when my hand is open, not clenched. The idea of stuffing myself by accessing information is more challenging. Wonderful opportunities and ideas pack my head leaving no space for discernment what is the best yes for my heart.
We allow our fear of missing out (FOMO) to drive our focus and draw our attention away from God. I wrote about FOMO here with a positive take on the word: Faith Overcomes Multiple Obstacles.
To live unattached and balanced in a world crammed with accessing and possessing requires faith. Faith, knowing God is enough, more than enough. Faith to let go. Faith to take the next step with God with open hands and waiting hearts.
For God has not given us a spirit of fear and timidity, but of power, love, and self-discipline
2 Timothy. 1: 7
Comments? What do you holding tightly instead of lightly? What do you cling to instead of God?