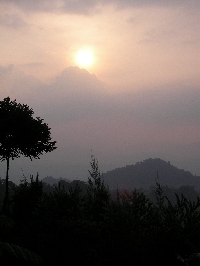 "Keep your eyes on the big picture," was the advice I heard a pastor say this week. I needed that reminder.
This has NOT been a pleasant week for me. When the life gets complicated, schedules and plans shred apart, and too many commitments spill out from my too little time, my survivor mode kicks in. I withdraw into self-pity, self-centeredness, and lots of whiny "why me" self-talk.
Not the way I really want to live and to be honest I don't think the way God wants us to live either.
I cling to my self-centeredness instead of dwelling in Christ-centeredness.
My episode of feeling sorry for myself pales in comparison to what Jesus suffered the week before His crucifixion. His threshold point in the Garden, giving up His will into God's hands, reminds me that Jesus too kept His eyes on the big picture.
Jesus didn't hang onto self-pity; He clung to Love.
Jesus said not my will, but God's.
Jesus knew to keep His eyes on the big picture
– God.
God is the big picture. With God's perspective, we focus on love, life and living, not self-accomplishments, personal priorities, and my what's in it for me mentality.
I know I will face bad days again, but I need to let go of my hurt ego and look up to God, keeping my eyes on Jesus, the author and perfector of our faith (Hebrew 12:2).
Reminds me of a
Corrie ten Boom
saying:
When a train goes through a tunnel and it gets dark, you don't throw away the ticket and jump off. You sit still and trust the engineer.
So I will trade in my self-pity for trust in God and rest in His love.
I will continuously pray – Your will, not mine.
I hope I will focus more on Him, the big picture from now on (or at least until I forget again and need a gentle reminder.)
And I will pray this Holy Week and every week, for the Lord to open my eyes and help me see what really matters – His Big Picture.