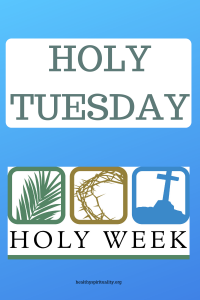 What is Holy Tuesday?
This week is Holy Week – a major worship-filled week for Christians. What a week to create space in our lives, calendars and time to come humbly and mindfully before God who gave us all – life, love, and grace.
We start the week together waving palms, honoring Jesus as King.
We eat together on Thursday beholding Jesus as the bread and wine.
We cry together in the dark sanctuary on Friday evening, remembering the cruxificion.
We rejoice together on Sunday receiving the gift of everlasting life from the One who defeated death forever.
As this post goes live, it is Tuesday. What is Holy Tuesday?
Holy Tuesday
The Gospels of Matthew, Mark, and Luke tell us that on Monday Jesus cleanses the temple of the money changers, curses the fig tree, and weeps ever Jerusalem.
On Tuesday, all four Gospels relate that Jesus finds the fig tree withered and talks about faith.
What Does Holy Tuesday Teach Us?
As I paused on this way through this sacred time, I wondered how Jesus felt on that Tuesday. He knew what was coming – and coming soon. He knew Judas betrayed him, his followers would desert and deny him, and pain and rejection would descend on his soul.
What did Jesus do?
Jesus continued.
Jesus continued to pay attention. To watch. To listen. To be engaged. I often withdraw and hide in my self-pity and hurt – Jesus stayed involved. He noticed the poor giving their all in the temple (Mark and Luke) and he told us, "be watchful" in Luke 20.
Jesus continued to teach – that entire week presented opportunities to discuss, tell parables and share lessons. He didn't give up or slow down – He kept moving forward.
Jesus continued to focus on his purpose – to glorify God. (John 12: 28) He knew his mission and kept his eyes on what his calling was – no matter what happened around him. Jesus' final days were full of risk. Every move he made was filled with anticipation, sorrow, and danger. He stepped out into the future, knowing and trusting God.
Lessons for us too when we face storms or unknown paths head.
Keep going.
Pay Attention
Continue to use the opportunities along the way as God has called us.
Fix our eyes on God.
Holy Tuesday Lessons. What is this week unfolding within your soul?