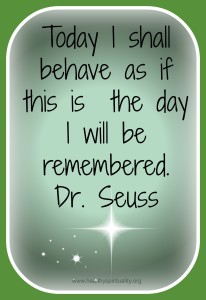 Mothers' Day is joyous for many of people. They have much to celebrate when their relationship with a mom or as a mother is good. Usually food, good memories and remembering to express thanks and love is part of the day.
But Mother's day can also be difficult reminder. Some of our mothers have long been gone due to death or family difficulties. Others may have more recently lost their mom and hearts still ache. Maybe the only gift you have from your mom is a life long legacy of hurt. Some women are not mothers, many not by choice and this holiday stings and burns.
No matter how you approach, ignore or celebrate this holiday – let's take a moment to honor the legacy of women in our lives. Even if that woman isn't a mother or even related to you, most of us have had women who encouraged us, cared and inspired us and generally made a difference for us.
My mom has been gone for 38 years. Wow, I gasped when I realized how long ago she died – in some ways a lifetime and in others, just yesterday. But her "momisms of wisdom" continue to guide me today. Her love lives in my heart.
And there are other women I want to honor that helped to shape me as I am today.
The fourth grade teacher who gave me a book of poetry at the end of the school year and told me to keep writing.
The Dominican nun who stretches me and opens my eyes spiritually.
My spiritual director whose quiet and simple questions nurture my prayers and bring me closer to God.
My eyes swell up in gratefulness when thinking of my own three daughters, Valerie, Katie and Mandy. All women I am proud of as I see their love and kindness showed to others.
My gal pals – life long friends from sixth grade always near to my heart. Others who I share deep spiritual moments with and ones who started out "just a fellow writers" and now are sisters. I hold in my heart special friends who travel with us locally to eat out and far and wide in fun and exciting adventures.
I can't forget my blogger friends I never met, but encourage and remind me we are all companions on this journey together.
Then there are the female speakers at conferences who stretch my mind and fill my heart.
Women from the past surround us like a great crowd of witnesses. – Eve, Hagar, Esther, Ruth, Mary, Mary Magdalene, Hildegard, Julian of Norwich, Dorothy Day. My great aunt Anna whose legacy transformed and formed my fledgling legacy.
"Carve your name on hearts, not tombstones.
A legacy is etched into the minds of others and the stories they share about you."
~ Shannon L. Alder
So many women who touched my life, many never realizing the impact they left. They taught, inspired and lead. These are the ones I honor this Mothers' Day and send up prayers of thankfulness for their presence.
Thank you.
What women impacted your life?