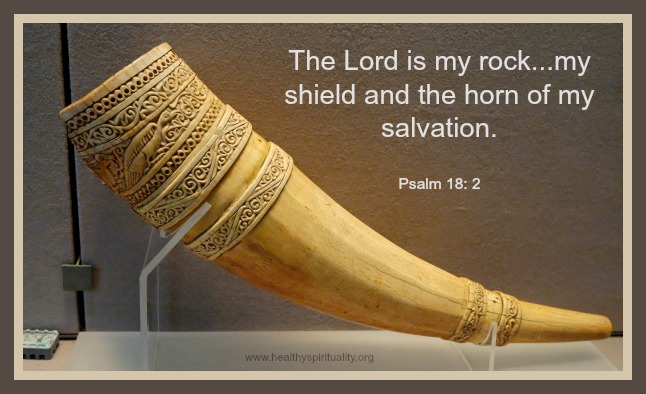 In my morning devotionals, I have been slowly savoring the psalms. This morning I enjoyed the taste of Psalm 18 until I stumbled at the phrase "the horn of salvation." mmm, I wonder what that means? I have learned if a word or phrase tickles my spirit to laugh and learn its message.
The Lord is my rock, my fortress and my deliverer; my God is my rock, in whom I take refuge, my shield and the horn of my salvation, my stronghold.
Psalm 18: 2 (NIV)
I found that expression in two other locations in my NIV Study Bible.
My God is my rock, in whom I take refuge, my shield and the horn of my salvation.
He has raised up a horn of salvation for us in the house of his servant David.
The horn of salvation describes God in the Old Testament and Jesus in the New. The Luke reading is where Zechariah is praising God as our Redeemer and Savior. All the verses tell us of an important attribute of God.
Several commentaries opened the meaning of this phrase. I thought that it might be a horn like in a trumpet, but most writers say it refers to the horn of a bull or an ox or a goat that the animal uses as a mean of defense or as a weapon. Horn symbolizes strength and protection, as this is the source of strength for many animals.
In the Bible the horns from animals was used as a trumpet blown to show victory in battle. In this light, God is our song of strength, protection and victory.
In reading about horns, I remembered a scene in C.S. Lewis' The Lion, the Witch and the Wardrobe. Lucy is given a horn and told,
"When you put this horn to your lips; and blow it, then, wherever you are, I think help of some kind will come to you."
Throughout the story when all seemed lost, they remembered the horn.
Good reminder for us too: Remember the horn.
The Horn of Salvation.
The Strength and Protector who will never let us down.
Remember the horn!
What is your favorite image/symbol of God?