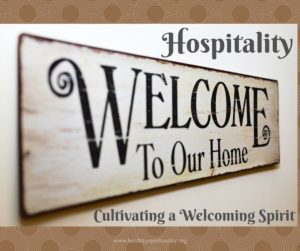 Hospitality
Exploring the practice of hospitality and cultivating a welcoming spirit is the topic for September's Tending the Holy Thursdays.  Last week I shared some background about hospitality and today let's discuss how to cultivate a welcoming spirit, especially for the introverts like me.
Each month on my Thursday posts, I pick one theme (or person of faith) to explore deeper. The last two weeks in September I will highlight some quotes and resources, then end with a summary of lessons learned and how to apply this vital practice to our daily living.
Like usual I wrote a free download to accompany this study, titled "15 Thought-Provoking Definitions of Hospitality."  You can get it at no cost by clicking on the button at the end of the post. It is my hope and prayer that this series and the tip sheet will enhance your walk with God.
Be sure to sign up to get Healthy Spirituality in your inbox so you don't miss any of the weeks (I promise I never over send stuff to you). And invite your friends to this blog and share on social media.  I sure do appreciate the support in spreading God's word.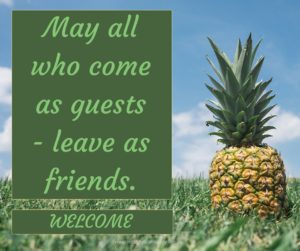 Tips for Hospitality – Cultivating a Welcoming Spirit
Don't you like the phrase cultivating a welcoming spirit?  I find it is less intimidating than hospitality and it energizes me with hope that I can grow in this practice. So how do you cultivate a welcoming spirit?
Hospitality boils down to connecting with others. Caring enough to notice, to reach out, to invite in.  To quit thinking only of yourself and being fully present with another soul. To welcome a stranger and forgive an adversary.
Key ingredients for a healthy hospitality habit are:
Awareness and acceptance – taking notice and recognizing another without judgement.

Giving with growing generosity – Remember generosity is a fruit of the spirit (Galatians 5:22) A good first step is to ask God for strength in charity.

Be a Listening presence – Often hospitality is associated with "doing" – offering food, shelter, fixing something, but the opposite energy of "being" is as important and at times, more important. Just being with someone, holding a hand, staying with then as others leave, smiling and praying for them – all encompass hospitality.

Creativity – Finding a new way to invite people inward and to express a friendly openness both takes and nurtures creativity. We give never expecting something in return, but often gifts of the heart flow both from and to the giver. Hospitality gives reciprocal life to all involved.

Love – All our actions and behaviors bloom in rich fertile love of and from God. A strong foundation starts with love and is held together with love.
"Hospitality, rather than being something you achieve, is something you enter.
It is an adventure that takes you where you never dreamed of going.
It is not something you do, as much as it is someone you become.
You try and you fail. You try again.
You make room for one person at a time, you give one chance at a time, and each of these choices of the heart stretches your ability to receive others.
This is how we grow more hospitable – by welcoming one person when the opportunity is given to you."
Lonni Collins Pratt, Radical Hospitality
As I ponder these ingredients and insights into a welcoming spirit, my heart stirs with possibility and hope that maybe, just maybe, I could do this.

Hospitality and the Introvert
But I am an introvert. As I described last week I would rather be by myself in my little corner of the world where everything is organized, predictable, and quiet.
Offer hospitality to one another without grumbling.
1 Peter 4:9
This New Testament verse sounds like a firm command for us to follow. I admit I don't follow as I should.
"All guests who present themselves are to be welcomed as Christ."
The Rule of St Benedict
Words of wisdom worth noting. Lord, help me see you in others.
As I consider all that I am learning about cultivating a welcoming spirit, I realize many times I use my introvert type of personality as an excuse. I hover inward, instead of following God's commands to connect and care.  I withdraw and fail to follow through to be honest,  mostly out of fear.
To greet someone openly, to invite them into the intimacy of my home and heart, and to offer the hand of friendship, to connect with others – makes me vulnerable. My timid soul is tender and may get hurt. They may scoff at my meal or housekeeping. What if they reject my gift of love? I stretch out on a tiny limb of possibility that may come crashing down. Hospitality is challenging for an introvert.
Martin Luther King, Jr. preached a sermon on the Good Samaritan story and wondered why the first two people passed by the injured man, refusing to show any help or hospitality to someone in need.
"It's possible that those men were afraid," he said. "You see, the Jericho road is a dangerous road. . . . And so the first question that the priest [and] the Levite asked was, "If I stop to help this man, what will happen to me?" But then the Good Samaritan came by. And he reversed the question: "If I do not stop to help this man, what will happen to him?" That's the question before you tonight."
As an introvert that is my question too. I am learning to trust God and look outward, asking the better question of what will happen to others if I don't reach out. I feel God's quiet invitation to quit offering excuses and instead offer love. Keeping it simple I can try this new practice.
Introverts can practice, taking little steps to nourish a growing spirit of welcome. Michele Hershberger in her book A Christian View of Hospitality suggests what she calls the two-mug hospitality. Have two cups and invite someone over for coffee. Simple open outreach of connection. I can handle one on one and small group better than a large gathering.
I could take a bouquet of flowers or fresh vegetables from my garden to an elderly neighbor or a resident of the nearby nursing home.
I ask God to open my eyes and heart and see him in others. Ask him to help me love more like he does. To expand my heart and teach me to love as he loves us.
I can do these things with God's help.

Hospitality – Welcoming Even the Stranger
Kathleen Norris shared this story in her book, Dakota:
"A story said to originate in a Russian Orthodox monastery has an older monk telling a younger one: "I have finally learned to accept people as they are. Whatever they are in the world, a prostitute, a prime minister, it is all the same to me. But sometimes I see a stranger coming up the read and I say, "Oh Jesus Christ, is it you again?'"
Seeing Christ in others is a key mindset for cultivating a welcoming spirit.
"A custom existed among the first generations of Christians, when faith was a bright fire that warmed more than those who kept it burning. In every house then a room was kept ready for any stranger who might ask for shelter; it was even called "the stranger's room." Not because these people thought they could trace something of someone they loved in the stranger who used it, not because the man or woman to whom they gave shelter reminded them of Christ, but because—plain and simple and stupendous fact—he or she was Christ." 
Dorothy Day
My homework this week is to ask for, then practice seeing Christ before me in all I meet.  What to try this with me? 
Don't forget I created a free download to accompany this study, titled "15 Thought-Provoking Definitions of Hospitality." In additional to the definition listed there you will find blank spaces to journal your thoughts after each quote and a place to write down more meanings to this word.  You can get this free by clicking on the button below.
 Click Here to Get the Resource on Hospitality
Let's talk about hospitality. How do you cultivate and practice a welcoming spirit?  What helps you to see Christ in others?
_
Let's talk about hospitality. How do you cultivate and practice a welcoming spirit?
Let's talk about hospitality. How do you cultivate and practice a welcoming spirit?  What helps you to see Christ in others?
// ]]>