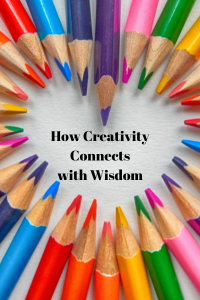 How is my exploration into creativity this year leading me deeper into wisdom?  Wisdom, one of my three WWW's that frame 2019 for me, has been elusive to name, capture, and apply, but I am beginning to see her lessons appear in odd places.  One of these hiding nooks is creativity.
I write.
I want to express a unique voice and with God's help, birth inspiring and innovative thoughts and ideas.
A writer desires to create something new, yet often finds another writer wrote this before, better, and even more beautiful.
What has been will be again,
    what has been done will be done again;
    there is nothing new under the sun.
Ecclesiastes 1:9
Nothing new under the sun.
I am discovering creativity often begins on rented land. An idea emerges, is nurtured by others, handed over to the next artist who adds his or her own spirit to its life.
As I study creativity, I am reading interesting bits of wisdom from other artists about this process:
"Everything that needs to be said has already been said. But, since no one was listening, everything must be said again,"
Andre Gide
******
Pablo Picasso said, " Art is a thief."
TS Elliot wrote, "Immature poets imitate; mature poets steal; bad poets deface what they take and good poets make it into something better, or at least something different. The good poet welds his theft into a whole of feeling which is unique, utterly different form that from which it was torn"
Wisdom emerges slowly with and through creativity.
Wondering about Wisdom and Creativity
Connecting these elements rose within me when I read the fun little book "Steal Like an Artist – 10 Things Nobody Told you about Being Creative" by Austin Kleon. While his writing inspires creativity, his words ooze with wisdom.
"Don't wait until you know who you are to get started."
"The secret: do good work and share it with people."
"Be nice: the world is a small town."
"Be boring: it's the only way to get work done."
Neat Book.
My Wandering Thoughts about their Similarities
Wisdom and creativity are both elusive, like our breath. Hard to hold, describe, and yet powerful when experienced.
Wisdom and creativity arrive unexpectedly – Be attentive as we never know when they may appear.
Wisdom and creativity glimmer to grab our attention then dart ahead urging us to catch them with joy and anticipation.
Wisdom and creativity hold elements of each other within their souls – Robert Frost wrote that a poem "begins in delight and ends in wisdom."
Wisdom and creativity complement each other creating a balance trestle for ideas to grow.
Wisdom and creativity both contain risk – stretching ourselves out of a comfortable place and exploring the unknown, wild, and transformational.
Mixed together wisdom and creativity spring alive. Both are more powerful when stated not as "either/or" but wisdom AND creativity  – unified as one.
God is both wisdom and creativity – characteristics of the Lord we too can reflect.
God had you in his mind well before the earth got its start. He was celebrating who you would become in Him before any mountains were formed or rivers were flowing. You are loved by God and destined to live a life of wisdom and creativity. Wisdom and creativity are inseparable, in fact, creativity is a manifestation of wisdom in the context of excellence and integrity. Wisdom is personified in Christ and the companion of God in the creation of all things. Therefore wisdom and creativity must not be separated in our hearts and minds. They are essential for us in our journey of being an effective ambassador for God, and a light for His glory. It is wisdom that brings favor, and an attractive illumination of His love to the world around us. While most God inspired people to value wisdom, most do not have an equal value for the role of creativity in their God-given purpose. Yet it is creativity that radiates the presence of Wisdom, and Wisdom delightfully responds to the creativity of its children.
Robert Ricciardelli
I am interested in your thoughts about wisdom and creativity. What have your experience with these two? What has this essay stirred within your heart?