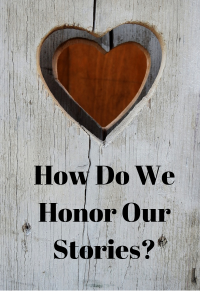 Honor.
That is a word I don't hear very often anymore.
Honor means to hold something with high respect and great esteem. Honor is a noun rising from the word "onur" Anglo-French for glory or renown.  From the early 1300s, honor meant an act of paying respect.
I'd add that when we honor something we value or hold something as sacred, precious,
Respect. Value. Honor.  Characteristics rarely seen in this toxic age.
Respect. Value. Honor. Characteristics desperately needed.
Honoring another is a spiritual practice I want to nurture within my heart, behaviors, and soul.
Today I am being very vulnerable with this topic. Honoring God's story, the story of others and even our own journey is an unexplored territory for me and one I feel invited into. Here are some initial thoughts about honoring our stories.
How Do We Honor God's Story?
Reverence – I behold God's magnificent nature and his immeasurable grace and love. I bow in his presence. I am a mere creature in the Creator's creation. I am an invisible blip in God's time. I admit my position to his greatness and power with awe, wonder, and thanksgiving. I acknowledge my identity as a beloved Child of God only through his grace and love. He is God. I am not.
Reflect and Receive – I listen to God's story and his voice. His wisdom slows my thoughts and prayer so I can receive his guidance and blessings. Honoring God with my full attention, seeking him throughout my moments, and being grateful as the day ends. With open hands and heart, I receive his Word and Spirit.
Revisit and Reconsider – I let go of my expectations and desire to reconsider that God is teaching me about my life. My point of view dims when seen through God's eyes.
Relish and Remember Thankfulness – What better way to honor God than through praise and thanksgiving! Appreciating his gifts and recalling them even in difficult times blesses us once again with patience, wisdom, strength, and hope.
Relationship – Honoring God helps me remember that God continually wants to deepen our relationship. The connection, the unity, and the presence together is the only path to wholehearted living.
How Do We Honor Our Own Story and the Story of Others?
The lessons from how we honor God can help us honor others and even ourselves.
Reverence – See the other also as a child of God. One that God loves unconditionally. Not always easy but when I do remember to practice honoring another with reverence, compassion blossoms in my dry arid heart. It is even harder to remember to hold reverence for myself at times – in moments of anger, despair, and wounded ego. This "mere creature" is a loved child of God. In this vast universe, God knows each of us by name. The first step in honoring self and others in through the door of reverence.
Reflect and Receive – Listening, true hearing the other is a great gift.  Honoring the space between each person as holy ground. Receiving their words without trying to fix or advice. Being fully present for their sake, not worrying about my next move.
Revisit and Reconsider – Humbly I confess here I am not perfect.  LOL.  Often I am wrong. I assume, make assumptions, and see others and their stories through the dirty filters of my experiences. The practice of being open and willing to accept a different point of view, to listen to their perspective, to reconsider other options. Being more honorable to one another is the antidote to all this toxicity flooding our world today.
Relish and Remember Thankfulness – Appreciating another's story with gratitude conveys honor. Practicing thankfulness for being part, coming alongside others in both good times and sad ones too values their journey and our mutual companionship.
Relationship – Our connectedness and interconnectedness grows with honor and deteriorates with dishonor. The world will never heal and be whole without each other. We must learn to honor and value ourselves and others.
Is Honor Related to the Practice of Hospitality?
Christine Valters Paintner recently shared this in her Abbey of the Arts newsletter:
"All guests who present themselves are to be welcomed as Christ, for him himself will say: I was a stranger and you welcomed me."   
—Rule of St. Benedict 53:1
"St. Benedict invites us to welcome in each stranger we encounter as the face of Christ in our lives.  Those people who make us uncomfortable or we dislike are especially included.  I also believe that Benedict meant to extend this hospitality within ourselves and seek out the stranger who knocks within on our hearts – that part of ourselves that has been neglected or shut out.  This inner and outer act of hospitality are intimately connected.  As we grow in compassion for the places within which challenge us, we are able to extend that compassion toward others.  The more we grow intimate with our own places of weakness or unlived longings, the more we can accept these in others.
When people in our lives stir a strong reaction in us, often it is because we are seeing our own shadow side being reflected back to us.  Being curious about our response opens us up to greater interior freedom as we discover the inner places we have neglected.
Monastic spirituality calls us to see everything and everyone – including ourselves – as holy.  The tools of the kitchen are to be regarded as sacred vessels.  The places in our heart where we wrestle are to be embraced with kindness.  The person who irritates us or makes us feel fearful is a window into how God is at work in our lives.  Being a monk in the world means that there are no more divisions between sacred and secular."
Next Step?
Be hospitable to others and their stories.  Give ourselves grace as we walk our own journeys. Honor God, others and self with reverence, reflection, revisits, remembering thankfulness and always know it is a relationship.
To be honest I am not entirely sure of my definitions and ramblings above, what I am missing or what I have written in error.
I do know this:
Welcoming others and seeing them through God's eyes, honor others.
Seeing the sacred in another's story creates honor too.
Others' story contains my story too – all within God's story.
I do know my next right step is to put the word "honor" back into my vocabulary and use it frequently as a framework for my thoughts, behaviors, and interactions, even when my ego would rather act differently.
What do you think about honor?  How do you honor God's, others and your own story? I would love to hear your take on this practice.