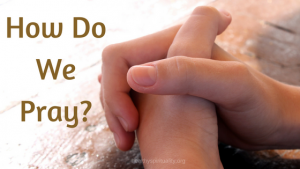 How do we pray? Prayer is one of the most referred to topics here on Healthy Spirituality. I believe prayer is an essential tool in our spiritual growth and knowing/worshiping God.
A few month ago, the research organization, Barna, released the results of a study about how American adults prayed. They asked questions of a sampling of 1015 U. S, adults in June 2017. Self-identified Christians and past Christians comprise 888 respondents. You can read the report here for more details and some interesting graphics.
How Do We Pray?
Barna acknowledged that prayer is not only the most frequently faith practice, but is also complex and multifaceted. There are all sorts of prayers and ways of praying.
Here are some of the insight I learned from this study:
How do we pray? Amazingly 94% reported that they prayed at least once in the last three months, most often praying by themselves. Prayer was practiced alone and in silence with only 13% saying their prayers were audible.
I can understand these statistics. The more I pray, the more I need the quiet time with God alone to hear him and just to be in his presence. But I also think a healthy prayer life can be praying with another, praying for another, and gasp – speaking to God aloud.
What is the content when we pray?
Gratitude and thanksgiving was the most common form of prayer followed by needs of their family and community and personal guidance in a crisis. About 40% of those surveyed also prayed "confession and forgiveness" (43%), followed by "things I suddenly feel compelled or urged to pray about" (43%) for "safety in daily tasks or travel" (41%).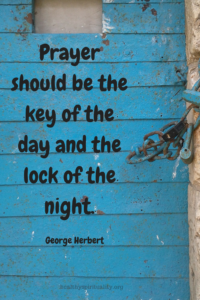 To Whom / What Do You Pray?
Most of those reporting directed their prayers to "God," though the study didn't define God. About half of the people stated they pray to Jesus and one quarter to the Holy Spirit. I found it interesting though most of the people surveyed stated they were Christians, a small percentage pray to the Saints (5%), a higher power that is not associated with a specific religion (5%), ancestors (3%), the universe (3%), divine power within themselves (3%), nature (2%), YHWH (2%) and Allah (1%).
In an earlier study by Pew Research Center reported that 55% of Americans say they pray every day, while 21% say they pray weekly or monthly and 23% say they seldom or never pray. Even among those who are religiously unaffiliated, 20% say they pray daily.
Reading these types of surveys give us a glimpse into how our culture prays. In my own prayer life, I know most of my prayers, talking with God, is by myself and in silence. When I teach prayer in a retreat setting, I often challenge them to pray aloud or in front of a group. I can see now how common the hesitation is to try this practice in that approach.
Prayer is powerful and our time with God life-changing. Learning more about prayer and spending time in prayer feeds our faith and helps us grow closer to God.
"Our prayers may be awkward. Our attempts may be feeble. But since the power of prayer is in the one who hears it and not in the one who says it, our prayers do make a difference." – Max Lucado
What insights would you add to this look into prayer?