How is Your Visual Intelligence?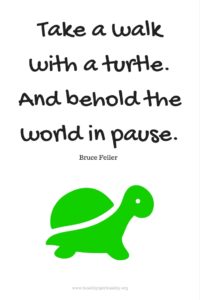 How is your visual intelligence? Ever hear of such a measurement?  I didn't until I found a new book by Amy Herman titled: Visual Intelligence – Sharpen your Perception, Change your Life.
I ran across this book while working of the Slowing Down to be with God series I presented a few weeks ago, especially when we explored "O" for observation, titled "Four Outstanding Options."
Visual Intelligence and Our Current Level of Observation
The skill of observation is important when living a reflective life, especially in the desire to slow down to be with God. Instead of living blindly or allowing busyness, interruptions and the world lead you, you become aware of those times when your heart isn't tuned to God and realign yourself.
But you have to be mindful, aware, intentionally observing how you think, live and act so you can make those corrections.
You observe and retune to God.
The world is full of magic things, patiently waiting for our sense to grow sharper.
Unknown
[Tweet "The world is full of magic things, patiently waiting for our sense to grow sharper.. Unknown"]
I would like to say I am a good observer, but as I become more aware of this spiritual tool, I am realizing how unnoticing I am in the daily hub-bub of life.
We get blind, busy, preoccupied, and inattentive in life. I know I do. I miss really seeing the details in living where the joy peeks through. Those pauses between the breaths where God smiles at us. My lack of observing takes away my discovering refreshing beauty, new insights, and even important, guidance for my daily life.
All of us are watchers–of television, of time clocks, of traffic on the freeway–but few are observers. Everyone is looking, not many are seeing.
Peter Leschak
You would think as a nurse, writer, and seeker of God – I would observe more. I would grade myself with a "C" – average – when it comes to this skill. Perhaps this is why the book and concept of Visual Intelligence appealed to me. We can learn to slow down to absorb what we are experiencing and to see God in the patterns, nuances, and details of life.
Visual Intelligence
Herman is a lawyer and an art historian – quite a combo, right?  She developed a course, then this book, about the Art of Perception and has taught her class to all types of professionals, such as the FBI, law enforcement, and the Department of Defense.  All jobs that need a high level of observation.
We all can learn to sharpen our visual analysis and skills in this area and boost our visual intelligence.  Herman does this through art and photography. She takes a portrait and teaches how to observe it details, poses thought-provoking questions around certain pieces, points out details missed at the first and second glance. Questions like what is going on in the painting, what relationship do you see, where is the light coming from?  We actively engage our brain to see in depth and specific features.
"We are all too much inclined to walk through life with our eyes shut. There are things all round us right at our very feet that we have never seen, because we have never really looked."
Alexander, Graham Bell
Her steps are assess, analyze, articulate and adapt.  Her book and classes give practical ideas to learn these skills based on some fascinating brain research and how we really see.
This book made me much more conscious of my inattentive filters, what I don't see, and encouragement that I can learn to do better. We see what we want to see, what we are told to see, and what we can learn to see what is missed hiding in plain sight. It's a process and take practice.
We find only the world we look for.
Henry David Thoreau
The author writes:
"Remember in our quest for the big picture not to lose sight of the small details…Don't rush to judgment. Step back and take things apart one layer at a time the way you would a complicated work of art…Always ask questions, especially of yourself. No matter how 'obvious' it seems to you, state what you see, because it's possible that no one else will see it…now you see what matters."
Spiritual Visual Intelligence
See what matters. Living a reflective life, seeing God in the nooks and crannies of living adds beauty and wisdom to our steps.  We can learn to be more attentive.
Check out this book if you want to increase your skill in observing. I borrowed mine from the library and even renewed it in order to reread some of her chapters. This is a skill that will take time to deepen and develop.
I learned something from each of her steps, but feel articulation is one I need to work on the most. Being able to say the words, describe slowly the emotion, journal or write a blog post about an experience – slows me down enough to hear God's lesson in that moment.
"Never lose an opportunity of seeing anything that is beautiful, for beauty is God's handwriting — a wayside sacrament. 
Welcome it in every fair face, in every fair sky, in every flower, and thank God for it as a cup of blessing."
–   Ralph Waldo Emerson
This process reminds me of Henry Nouwen and his book The Return of the Prodigal Son where he gazes at Rembrandt's painting of that well known Bible story and discovers himself in all the characters. His reflective lifelong examination of that portrait shaped his spirituality.
Find one painting, photograph or image that calls to you, invites you inward and study that for a year. Copy it into your journal. Visit an art museum to practice observing details. Slow down to be with God in seeing in new ways.
"Art does not reproduce what we see; rather, it makes us see."
–   Paul Klee
Honing our spiritual visual intelligence is like editing a photograph. You take the time to enhance the colors, remove the shadows, sharpens the details, add filters, and even rotate to gain new perceptions of an experience.

I like the word – behold – in conjunction with the idea of observing. Beholding, deep seeing, implies movement of what we are learning from our eyes into our heart and allowing that experience to shape our steps.
My soul thirsts for God, for the living God. When shall I come and behold the face of God?
Psalm 42: 2
Don't go through life on automatic pilot. The powerful skill of observation opens our heart to become more receptive to God's presence and more aware of his touch and voice in our life. Intentionally begin to develop your visual intelligence, especially in your faith.
What photo, image, painting call to you? Deeply observe it, learn from it, grow from its lessons.