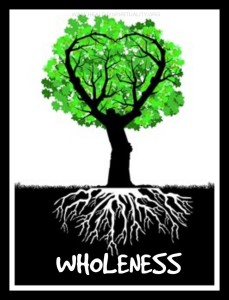 On retreat last year I talked with the spiritual director about my continual struggle between my head and my heart. Sometimes it felt like a tug of war going on within me. Like I was two people – a split personality. I felt like I lived in either one place or the other, no peace.
She asked me if I could describe how I felt in an image. After awhile I told her a hourglass. Two parts with a constriction in between. We sat silently as I pondered the meaning of that symbol.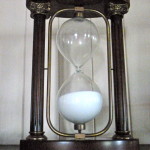 Quietly she suggested that I ask God for the gift of a new image if that would help heal the broken connection within me.
Later in the day I did ask God if he could show me a new way to think about my clashing infighting for dominance. Why couldn't these two children get along? Help me Lord bring them together. Help me find wholeness.
I have always loved trees. I have been drawn to stories about them; verses about them. Lessons in their different seasons.
The scales fell from my eyes and my heart opened: A tree!
Like the image of the tree above this post: the roots reflect my heart – growing deeper into God's love and way, nourishing the rest of the tree and anchoring its life in good times and bad.
The branches symbolize my head – ever reaching upward in praise, words, writing, love for God. The leave nourishing the roots taking in the Son.
The trunk acts as the conduit – not a rope in a tug of war – but the means to feed each other and communicate in a flow, sometimes even a rush of compassion, tenderness and interconnectedness. A healthy two-way cooperative movement working together for the sake of a single soul.
Thank you, Lord.
United.
Oneness.
Wholeness.
I hadn't thought much about that healing day on the retreat until the other day when I read the following quote. 
THE WISDOM OF A TREE
A tree is a perfect presence. It is somehow able to engage and integrate its own dissolution. The tree is wise in knowing how to foster its own loss. It does not become haunted by the loss nor addicted to it. The tree shelters and minds the loss.
Out of this comes the quiet dignity and poise of a tree's presence.
Trees stand beautifully on the clay. They stand with dignity. A life that wishes to honour its own possibility has to learn too how to integrate the suffering of dark and bleak times into a dignity of presence. Letting go of old forms of life, a tree practises hospitality towards new forms of life. It balances the perennial energies of winter and spring within its own living bark. 
The tree is wise in the art of belonging.
The tree teaches us how to journey.
Too frequently our inner journeys have no depth. We move forward feverishly into new situations and experiences which neither nourish nor challenge us, because we have left our deeper selves behind. It is no wonder that the addiction to superficial novelty leaves us invariably empty and weary.
Much of our experience is literally superficial; it slips deftly from surface to surface. It lacks rootage.
The tree can reach towards the light, endure wind, rain, and storm, precisely because it is rooted. Each of its branches is ultimately anchored in a reliable depth of clay.
The wisdom of the tree balances the path inwards with the pathway outwards.
~ John O'Donohue
What do you think? Do you have a symbol that helps you in your spiritual walk?
PS. If you haven't taken my 2015 Readers Survey I would love to have your feedback about this blog. Your input is important to me. The survey is easy to fill out, and the results are completely anonymous. I can't tell who said what.
The survey will be open until August 2. Thank you so much.