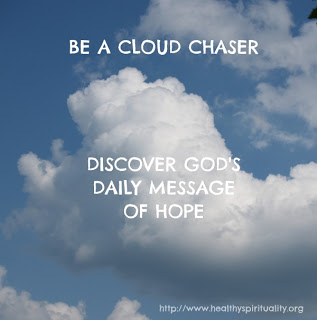 Do you remember how when we were children we would watch clouds with an intense interest and imagination?
We would rest on our backs on the cool grass on a warm summer day and examined God's blue pallet.

 
"Look, there is a giraffe."
"Over there, a speeding car."
"And if I squeeze my eyes till they are almost close, I think I see a marshmallow being stretched apart by two gorillas."
Meteorologists tell us that every cloud contains a weather message. God sculpts all types of clouds as messengers of hope from Him to help us weather the storms in life.
I love looking up each day and seeking what God is telling me in his heaven.
You see, I am a cloud chaser.
·

     

Cloud chasing involves looking up. This physical act of raising the chin lifts the spirit and provides a momentary pause by focusing on new possibilities instead of our problems.
·

     

Cloud chasing invites us to look inward and to indentify what is churning within our hearts.
·

     

Cloud chasing reminds us to look beyond our momentary problems and negative emotions. We find hope in knowing the sun does still shine on days when can't see its light.
I have been working on a book proposal about cloud chasing and the lessons God sends us in all the various types of cloud formations. There are extraordinary lessons in the ordinary daily backdrop we often complain about or ignore. God's canvas is full of inspiring and uplifting lessons that when observed renew our spirit and remind us of His loving presence. I thought I would share some of what I have been learning with you in this series about Cloud Chasing.
So the next few posts I will invite you to become a child once again and capture the wonder as a cloud chaser. God's canvas shows us surprises every day if we just take the time to look up, look inward, and look beyond our ordinary day-to-day drudgery. Cloud Chasers see God's lessons in the sky.
Join the conversation:

 

Are you a cloud watcher? What do you learn when you look up to the sky?