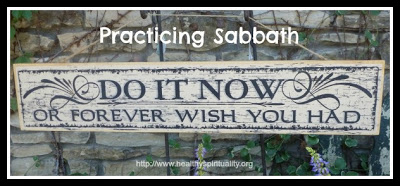 Fellow blogger and Christian sister,
Shelly Miller
has been writing about Sabbath and has a great series on her blog,
Redemption Beauty,
about surrendering to Sabbath. I so do appreciate her honest sharing with honoring this day as it has inspired me to continue in this practice.
Honor Sabbath
So how have I been doing?
I did implement much of what I had planned and was actually noticing a difference on Sundays. I was more relaxed. I entered into worship and prayer at a deeper level. My dance card was packed on Sunday with the Lord filling all the slots. I connected and spent time with our Creator.
BUT then we began to travel.
We were gone many weekends. Airports and automobiles became my sanctuary. I unraveled. I wandered. Distractions and disarray reigned. I even noticed I didn't sleep as well. I focused more on what I wasn't getting done and less on being with God. I dwelt in anxiety instead of adoration.
Time to revamp. My hubby and I do like to travel. We love seeing new places, visiting friends and enjoying trips. I am grateful for busy blessings but need to physically and spiritually rest. My soul is out of breath.
Honor Sabbath while Traveling
mmm, how do I honor Sabbath when traveling?
Sabbath isn't about the rest; or the things not to do – it is about honoring the Lord's day. We are to keep the Sabbath holy, which means to set it apart from the other days and routine activities. A day for the Lord, not for the world or me.
Sabbath is also a gift from God. Why would I ignore a precious present from the Lord?
We have several more trips planned for this coming summer. I have been praying and thinking about how to best keep Sabbath while we travel. Here are some of my ideas:
·      Start the day 30 minutes earlier for quiet time.
·      Try to find a church while we travel. (confession: we are not always intentional about this. What an honor it is to worship at other places.)
·      Read the Bible and other Christian material.
·      If possible when planning the trip if we have to travel on Sunday, to have at least a partial day at a different time to be our Sabbath.
·      Write in my journal. How am I spiritually? What am I hearing God say to me on this journey?
·      Pray (Ok I do pray, but want to be more intentional)
·      Sing.
·      Pause, practice embracing the present moment, look at God's creation with gratitude.
·      Talk with husband (this may seem odd but when you travel day after day with someone you fall into a comfortable silence. Not bad, but am I missing the opportunity for some great discussions with the man I love?)
·      Connect with a stranger in a kind way. Smile at a store clerk. Share a compliment. Write to customer service after leaving a place that treated us well.
·      Continue my practice of no internet/email time from sunset Saturday to late afternoon Sunday.
"Like a path through the forest, Sabbath creates a marker for ourselves so, if we are lost, we can find our way back to our center."
"All life has emptiness at it's core it is the quiet hollow reed through which the wind of God blows and makes the music that is our life."
"According to Isaiah, Sabbath is supposed to be a delight. The Sabbath is a gift of time. We live in time; our lives are made of days and how we use the time that we've been given.
The Sabbath is an instruction about how to feel the rhythm of time. Our heart and lungs are a rhythm. The tides of the earth and the seasons have a rhythm. Everything alive has a rhythm, and if we fall into Sabbath rhythm, we fall into rhythm with the heartbeat of the world. When we work twenty-four hours a day, seven days a week, we live like people who are at war, we live in war-time.
What's the war about, whom are we fighting and how will we know if we've won?
The Sabbath intentionality is to open up a space for listening to that which is most precious, nourishing and deeply true, and letting ourselves be worked on and delighted and fed."
I would love to hear from you with ideas about how to honor the Sabbath while traveling.