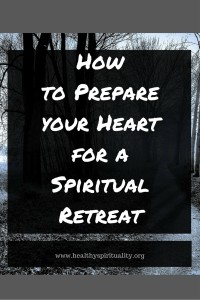 I leave Thursday for a spiritual retreat – a four day silent one that feeds my soul. I love spending time in deep conversation with God and getting away from the noise that bombards me – both internal and external.  But one thing I have learned from taking multiple retreats is to take the first step days before leaving. How do you prepare your heart for a spiritual retreat?
A farmer wouldn't just cast seeds on hard uncultivated ground. A writer outlines a book plot.  A cook purchases the necessary ingredients for the big meal. Priming your spirit for spending time with God is like any of these types of work – usually some preliminary prayer and pondering best prepares us.
6 tips on how to prepare your heart for a spiritual retreat:
Pray – Ask God to start now to quiet your internal chattering, so you can listen deeply to his voice.  Ask for protection for your time away. Ask God to be with your family so your worries can stay at home and not rattle around your spirit while you are gone.
Is there a Bible verse or image that has resonated lately with you that might be a good place to start at the beginning of the retreat?  Make a list of potential ideas. Again I pray. This year I am taking a few things from my home altar to create an environment in my room similar to here at home. Most retreat center forbid lighted candles in the rooms due to the fire hazard, so I have a battery operated flickering candle ready to go that I will turn on to open each of my prayer sessions.
Books – I take too many books with me on retreat. Sometimes they are useful, but often I find myself spending time with other people's voices instead of hearing my own or God's.  I create a pile of books to take with me more out of FOMO – Fear of Missing Out – and not having something with me, instead of trusting God and his transforming process.  This time I have started to compile some books, but will, with prayer, only take a few.  I often do pack my Kindle though. In the past I have occasionally downloaded a book while on retreat that a spiritual director mentioned or found the lyrics of a song that called to me.
My Journal – one book I always take. This year I am taking two – the one I just started a few months ago and last year's journal. I find the first night of the retreat when my mind is still full and I am uncertain how to settle in, rereading my journals and my Bible quiets my spirit. The noise drips off my finger tips and tension sheds like an old snake skin.
My intention – what do I hope to received from the Lord on this retreat? I try to hear God before I arrive – sometime it is clear, but often it isn't. I ask myself what is it I am seeking? Where do I feel God is inviting me? What do I most need at this time?  I actually write this out in my journal. I pray about what I think is this direction. Then I let it go.  Open hands, I give it back to God. I hold it lightly in my hands. My breath prayer is "open and willing, Lord."
More prayer – A retreat really starts well before your arrival at the retreat center. God is constantly at work cultivating the soil of your heart for his word. I've read that a third of the fun on a vacation is the weeks before – in the anticipation of the trip – the second third is while you are there and the last third is once home – enjoying the memories. A retreat is much of the same, but too often the busyness, noise, and tension of life steals away the joy, lessons, and groundwork in the time before we leave. Prayer calms us, opens us, and directs us in this season before. And what if life just interrupts and we don't prepare?  God will show up mightily anyway.  He loves spending time with us and eagerly awaits us, no matter how we arrive or how frazzled we come into his presence.
How do you prepare for a retreat?  Did I miss anything?  I want to share a secret – a sneak preview of something new – with you. My next book is about spiritual retreats with a whole section dedicating to ideas to best prepare yourself before going on a retreat. I am excited to get this book finished hopefully sometime this spring and have it available on Amazon. There I said it out loud – now hold me accountable, OK?  So share with me any ideas about how to prepare your heart for a spiritual retreat!