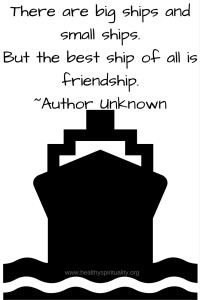 Ever suddenly realize the heroes in your life? Who they are? That they were there all the time and you never really notice? Or maybe you did see them, but unexpectedly the gratitude of their presence overtakes your heart and you know this relationship is something special and priceless.
We just returned from a wonderful week in the Outer Banks. Yes, lots of beach, sun and surf. Fun and relaxing, but more importantly time spent with lifelong friends. Friends who entered and impacted my life at different crossroads of time – all intersecting together for a week in North Carolina.
I spent the week with three friends from various points in my life. Being close to the same ages, we share common milestone events – weddings, birth of children, graduations, marriages of children, grandchildren and now even retirement. Yet more than just experiencing these same life stages, I noticed something unique about our friendships.
All three of my friends were present and walked me through key transition times of life – both the joyous events and the dark challenges. I am grateful for their friendship but even more so now that I appreciate their presence when I stood on shifting sand.
Chrissy – our friendship began in 6th grade. I was the newbie in a strange new school and to this day, she can tell you the color of the dress I wore that first day. She welcomed me into her heart and her world and I never left. We walked together through the turbulent teen years of family changes including the death of my dad when I was 16. We also shared a crazy Beatlemania with each other; she loved Ringo and I made google eyes only to George.  We were each other's maids of honor on our wedding days.
MaryAnn – college freshman roomie. I think we were both scared and not sure what college would bring. We helped each other and stayed in contact through the busy years of motherhood. Now living less than an hour apart we renewed a friendship that has lasted more than 47 years.
Nancy – one of my first friends when we moved to a tiny town in NW Ohio that I didn't want to come to. God dragged me here and looking back I am so grateful he planted us here. Our hubbies became friends and as we went out as couple, her smile, friendship and loving presence sealed our alliance. We shop well together – and we all know people we like but can't stand shopping with them if they take too much time or rush through the stores. You have to find a good shopping buddy and Nancy fits that bill. We also travel well together.
Three friends all being present in times of change for me. And with all three we share a deep faith in God. And to top it off – all three with me on this wonderful vacation. I feel blessed.
Looking back – reflecting on our lives is how we often discover those unseen heroes in our lives, like my three friends. I know they gave me strength and hope in difficult times and smiles and laughter in the joyous ones.
Living a reflective life is a spiritual practice that grows us deeper and opens our hearts to more love. In hindsight, details appear more clearly and crisp – like having help, support, wisdom and strength. Often we don't recognize or value those people who stay by our side and see us through. The unseen heroes of our life.
I wonder if it is enduring the hard times that forges the bonds between people. The sharing of like moments, the vulnerabilities of tears, the removal of the mask of self sufficiency that allows love to fill in the gaps and feel accepted in our weakest breaths.
Three lifelong friends – the type you may not see for eons then once together, chatter like it was yesterday. The friends you know would reschedule even the most pressing event on their calendar if you really needed them to be with you. The ones you could call at 4 am and know you would get an understanding ear.
Thank you Chrissy.
Thank you MaryAnn.
Thank you Nancy.
I am so grateful for these companions on my life journey. Even more I am thankful for these sisters.
I am more complete because of them. Friends are gifts from God.
In everyone's life, at some time, our inner fire goes out. It is then burst into flame by an encounter with another human being.
We should all be thankful for those people who rekindle the inner spirit.
~Albert Schweitzer
When we honestly ask ourselves which person in our lives mean the most to us, we often find that it is those who, instead of giving advice, solutions, or cures, have chosen rather to share our pain and touch our wounds with a warm and tender hand.
The friend who can be silent with us in a moment of despair or confusion, who can stay with us in an hour of grief and bereavement, who can tolerate not knowing, not curing, not healing and face with us the reality of our powerlessness, that is a friend who cares.
~Henri Nouwen
Who in your life stands out when you reflect over your times of joy and challenges?