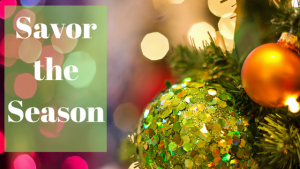 The holiday season is upon us. In the U.S. this week welcomes Thanksgiving. Advent begins December 3 then time spins and speeds to Christmas and New Years. I don't know about you, but I was bombarded by Black Friday ads right after Halloween amidst Christmas music.
Whew!  How do we catch our breath during the busy holiday rush?
Wait! I want to savor the season, not just survive its spiraling spin.
How can we slow down and breath this time of year?
Savor the Season Tips
When I began to write this post, I tried to create a clever acronym, an easy to remember witty expression or a wordy recipe to follow.  I felt tense, making things too complicated. My writing mirrored the crazy muddled holiday emotions I was striving to avoid.
I paused.
I hit delete.
I chose simplicity.
Not a bad plan of action for the holidays either – pause, delete, and chose simplicity. Here is what I am going to do during Thanksgiving and Advent to prepare my heart to welcome Christmas and the New Year:
I will practice intentionality in valuing each moment.
I will say no. I have already said no to several commitments, explaining I wanted to slow down during December, but could meet with them in January. So far everyone has been receptive to my postponement and actually expressed they too wanted more space in their lives and calendars.
I will take the time to ponder the themes of Advent each morning, choosing one for my word for that day. Words like peace, thankfulness, love, light, wait, hope, Immanuel, joy. I will hold these lightly – maybe only one word will guide me through this season – maybe more will appear as gifts to light the way to Bethlehem
I will light candles. I will sit quietly in the twinkling lights of the tree. I will relish the voices and faces of my family and tuck them into my heart. I will pay attention to what really matters and ignore the trivial.
I will thank God each day for that day's offering.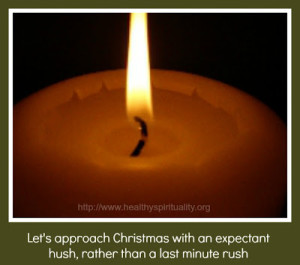 2. I will read.
And that's it.
Simple
Practical
Slow
My prayer is you too hit that pause button during this holy season. Let your busy hands unfold and release and your heart enfold and retain the sweetness of the Christ Child.
"The season of Advent means there is something on the horizon the likes of which we have never seen before… .What is possible is to not see it, to miss it, to turn just as it brushes past you. And you begin to grasp what it was you missed, like Moses in the cleft of the rock, watching God's [back] fade in the distance. So stay. Sit. Linger. Tarry. Ponder. Wait. Behold. Wonder. There will be time enough for running. For rushing. For worrying. For pushing. For now, stay. Wait. Something is on the horizon."
Jan L. Richardson
How are you preparing your heart for this holy season? How will you savor this season?