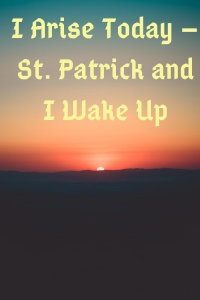 "I arise today" is the phrase for me launching each new day.
I stir, one eye half open peeking at the time on the clock and stretch my arms over my head while still tucked under the cool sheets.
There is an old joke. Some people wake up and say, " Good God it's morning." Others start with their day with "Good Morning, God."
I am in the Good Morning, God group.
Good morning, Lord brings a smile to my heart and a push to get moving. The Holy Spirit rouses my soul and pushes my get going button to full throttle. Ok, not full throttle. Often, I putter and stall, then I recall the phrase, "I arise today."
This is a prayer, also called the Deer's Cry, attributed to St. Patrick. Here are the words.
I arise today
Through the strength of heaven;
Light of the sun,
Splendor of fire,
Speed of lightning,
Swiftness of the wind,
Depth of the sea,
Stability of the earth,
Firmness of the rock.

I arise today
Through God's strength to pilot me;
God's might to uphold me,
God's wisdom to guide me,
God's eye to look before me,
God's ear to hear me,
God's word to speak for me,
God's hand to guard me,
God's way to lie before me,
God's shield to protect me,
God's hosts to save me
Afar and anear,
Alone or in a multitude.

Christ shield me today
Against wounding
Christ with me, Christ before me, Christ behind me,
Christ in me, Christ beneath me, Christ above me,
Christ on my right, Christ on my left,
Christ when I lie down, Christ when I sit down,
Christ in the heart of everyone who thinks of me,
Christ in the mouth of everyone who speaks of me,
Christ in the eye that sees me,
Christ in the ear that hears me.

I arise today
Through the mighty strength
Of the Lord of creation.
I arise today is also sung in some beautiful musical arrangements. This is one of my favorites.
On a retreat I felt God engrave "I arise today" onto my soul as a gift to start each day with him. There are the words I wrote while on retreat;
Jean Wise's Morning Prayer ©
I arise today
Not out of my own power, but only by your grace, forgiveness, and love.
I arise today
Thirsty for More, more love, more life, more You.
I arise today
Not yet complete, but with joyful anticipation of the wholeness yet to come.
I arise today
Asking for awareness, attentiveness to within, and all that is without.
I arise today
Knowing you are all around me, There isn't a place without you. I rest in your heart – that is my home – and draw strength from your hand with me, before mm, behind me, holding me beneath and guiding me onward.
I arise today
Asking to see you in all things, people, trees, birds, food, smiles, and remembering you in the eyes of all.
I arise today
With hope in the yet to come and a deeper desire to love the unknown mystery ahead.
I arise today
Honoring the More, this home within you, the holy ground of today.
I arise today
And breath in your presence deep into my soul, slowly according through my heart and mind and thank you for this new day.
So now every morning I smile. Good Morning God. I arise today…
Adding whatever first comes to mind. I never hesitate, I think because I am relaxed and unguarded so early in my day. I consider the plans that may happen that day. Maybe a name comes to my spirit. Maybe a world situation. I say 3, maybe 4 "arise today" personalized prayers, then begin the day.
My prayer looks something like this: I arise today asking to see you in all who I meet with today. I arise today knowing you are with me. I arise today seeking your will in all my decisions such as…
I start each day with the Lord. Drenched in prayer. My heart aligned with his. My spirit resting under his Spirit. His light leading me. His love ever with me.
A simple way to start each day with God. An uncomplicated, easy to remember phrase that even a sleepy, sluggish mind recalls.
And what a lovely way to greet each morning – I arise today.
How do you begin your day?