After all these things, this word of God came to Abram in a vision: "Don't be afraid, Abram. I'm your shield. Your reward will be grand!"
 Abram said, "God, Master, what use are your gifts as long as I'm childless and Eliezer of Damascus is going to inherit everything?" Abram continued, "See, you've given me no children, and now a mere house servant is going to get it all."
 Then God's Message came: "Don't worry, he won't be your heir; a son from your body will be your heir."
 Then he took him outside and said, "Look at the sky. Count the stars. Can you do it? Count your descendants! You're going to have a big family, Abram!"
And he believed! Believed God! God declared him "Set-Right-with-God."
Genesis 15: 1-6 The Message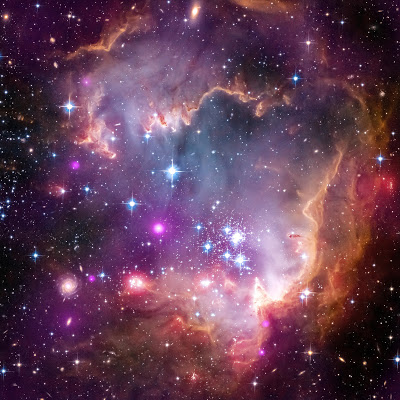 "Look at the sky. Count the stars. Can you do it?"
Lord, you set the sun and reveal a silky black backdrop to highlight your shimmering stars.
I love your nighttime creations, Lord.
I search to find the Big Dipper and Orion's belt.
I wait, hungry to see a meteor streak across your palette.
The twinkling of each star reminds me of the love sparkling in your eyes for each of us.
Count all of your stars, Lord? Impossible! The amount never ends.
Stars visible in the dim lights of my little village.
Stars only seen by computerized telescopes.
Stars born already and not yet discovered.
Stars beyond our wildest imagination in distant places.
All created by your hand.
All too numerous to count.
All reminders of your promises that you will never forget.
All symbols of your infinite and incalculable love.
I can't count all of your stars, 
Lord but I can count on you.