The next few weeks I am hosting a group of guest bloggers. These very special ladies all offered to help fill in while I check off an item from my bucket list: a pilgrimage to Scotland and England.
Today my blogger friend, Michelle Eichner joins us to talk about the struggle of submitting to God. This Floridian loves Jesus, family, friends, football, and helping people know the joy of studying God's Word.
I connected with Michelle though Jen Ferguson's blog, 
Finding Heaven
, and we are partners in one of Jen's Soli Deo Gloria small groups.  Getting to know her in this group has been such a pleasure. Being part of a small group that prays for one another is so encouraging.
Ever heard that one?

I wish I had a dollar for each time one of my boys said that when I asked him to do something!
A few years ago our Pastor, Tom Mullins, was speaking on Palm Sunday. His statement, "The battle was won in the Garden," really made me stop and think. The battle was "I don't FEEL like it." Mark 14:32-41 records the story. Jesus knew from the moment of His birth that He was sent to earth to die. Yet, as the reality of that thought bore down on Him, three times Jesus prayed, "take this cup from me" – basically saying  "Can't we do things another way? This isn't what I want to do."
But in the end He said, "Not what I will but what You will."
That's the victory – submitting to what God wants, the way He wants, when He wants,
even when I don't FEEL like it.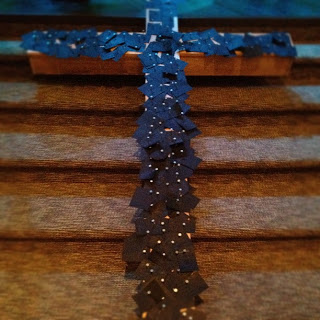 As I was mulling over this recently, a new thought struck me.

(I love how God's Word is living and active – fresh every time I study it!)

Jesus sweated as He was in the process of submitting.

I realized that submission can be a struggle and process, (and I am sonot a "process" kind of person!)
How often do I want a quick easy response from my boys?! Yet Jesus prayed 3 times and sweated profusely in the process of saying, "I don't FEEL like it, but I'll do Your will." He prayed for at least one hour according to Mark 14:37, probably more than that.  That's not a quick easy response in my book! I'd have a conniption if one of the boys said, "I'll be back in an hour mom. Just need to go pray," in response to something I'd asked him to do!!
God is teaching me to be patient (dare I say that? :-)) with the boys and allow them the process of submission – sweat and all. "I don't FEEL like it" isn't an excuse for disobedience, but neither can I rush the process of God dealing with their hearts. He does such a better job than I do anyway! 
And I need to be a good model for the boys. I need to let them know that there are times I don't want to do something, but I am doing it because God wants me to, or times that I want to do something and I don't because God wants me to. 
The ultimate victory is submitting to God's will.
How about you?

Are there things you don't want to do but you do anyway out of obedience?

How do you handle the "I don't FEEL like it" response in your house?