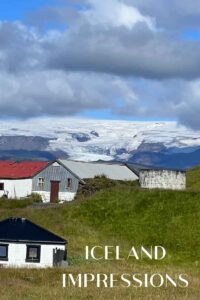 Iceland! I just returned from a wonderful, magical, fascinating trip to Iceland. What an adventure to experience such a different culture and environment. God certainly expressed creativity when fashioning this part of the earth. In fact, one of the tour guides commented that when God was young ( interesting thought, isn't that?) that God decided to play with all the elements and threw them joyfully here and there in Iceland.
If you have read this blog for a while, you know how I tend to reflect and hunt for lessons in my everyday moments and in journeys away from home. Here are a few insights from Iceland:
Puffins. Need I say more? They are so cute. We were able to see them multiple times. What surprised me about these birds is that under an UV light their beaks become biofluorescent. This light wavelength isn't visible to humans, but attractive to other puffins and especially young ones to help spot their parent. Reminds me my limited human eyesight never gets the entire scope of reality. God is always More!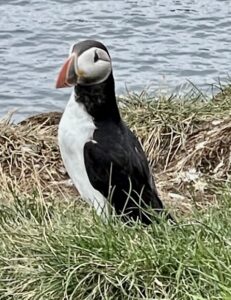 Not only can't our limited human eyes not see all the colors God created, but we often don't see below the surface of the ordinary. Iceland is a rocky place – pummeled by volcanos spewing out black lava rocks, smoke, and ash. I could share more just about this, but one experience stood out to remind me to look deeper. We visited a display in Djupinogur (I know I couldn't pronounce it either) of lava rocks collected, cleaned, split, then polished. What amazing treasures inside ordinary rocks. Beauty often lies beneath the surface or beyond our view.

The people. Those we met in Iceland were so friendly, proud of their country and open to sharing their way of life. They have great respect toward nature and how they co-exist in this often-hostile environment. There is a strong sense of independence having to be so self-efficient for centuries, yet ever mindful of community – taking care of others no matter who they are. While the temps while we were there in August ranged in the 40-50s – their summer heat, you might make some assumption about some of their favorites. Surprise! It's swimming pools (and many heated outside lagoons) and ice cream.
Iceland reminded me how much life is enhanced through our attitude of heart and mind. These people have joy. They see trolls all over – Trolls are night creatures and turn into rock formations if they stay up too late and are exposed to sunlight. They imagine two trolls kissing and even a elephant in various rocks. 70% of the residents believe in the hidden people or elves living in and beneath the lava rocks. Smiles comes easy when surrounded by multiple waterfalls, dazzling rainbows, and heart shaped traffic lights. The collective attitude is "All will be well," – embrace what happens and make the best of it, a delightful approach to life. The word "Viking" originally is a verb meaning to go on an adventure. The farmer would typically "Go a-viking" during the period after the spring sowing returning late summer for harvest. Let's go a-viking into all life!



Still it is nice to be home. As the plane descending into the Detroit airport and broke through thick cloud cover, I gasped. GREEN everywhere – Green fields. Green trees. Green meadows. Emerald overload. I didn't realize Iceland's geography so stark, barren, and brown/black had drained my color palette. A week later I was still savoring the green Ohio summer, appreciating how much I missed the aliveness found in greens.

Lessons can be found throughout life whether we are home or traveling. I feel blessed to be able to visit and learn about Iceland – a great reminder of how God's wisdom and beauty exist if we are open to looking deeper.
Have you ever visited Iceland? What have you been learning lately just where you are?