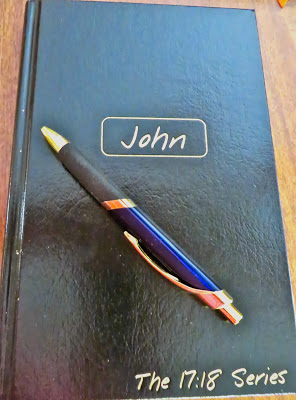 I knew I had to order one.
The book I ordered arrived over the weekend.
I love it.
What is a journible?  This is a beautifully bound, hardback, blank (well mostly) lined journal where you are prompted to write out a book of the Bible. See how they created the name? They fused the word journal with word Bible. Cool concept. A new way to enjoy journals.
The idea stems from Deuteronomy 17: 18 (NLT)
"When he sits on the throne as king, he must copy for himself this body of instruction on a scroll in the presence of the Levitical priests."
God commanded the kings of Israel to handwrite their own copy of the Torah. The purpose of this was so that they would carry it with them always, read it, learn from it, and lead the people accordingly.
I don't know about the rest of you but this Bible verse was new to me – what a treasure to find. Isn't God's word so amazing that it keeps giving, nurturing and feeding us just when we need it?
Many teachers are now recognizing the value of kinesthetic learning – using both the mind and the hands to enhance learning. Why not apply this technique to the Bible?
You write the text on the right hand side of the page. There is adequate room for each verse. The left side of these journals is for your own insights, impressions, prayers. Occasionally a question is printed there to prompt your thoughts.
The entire bible isn't available yet, but is for Psalms, Proverbs, quite a few New Testament books and the gospels of Luke and John.
Yesterday in my quiet time, I opened the journible (there is something so reverent about the first time a book is opened. The slight cracking sounds of the binding. Touching its unmarked pages, I almost thought pixie dust would emerge from its pages – oops I digressed, sorry)
I wrote the first ten verses of John.
The process of handwriting the word of God revealed new nuances to its message. This is one spiritual practice that I will definitely keep doing. I do love journals.
I am not affiliated with them so don't receive any compensation, but really liked this new Bible study tool that invites us deeper into God's living scripture.
How are you growing in God's word?