The prediction today is for Ohio to hit 50 degrees. The blanket of snow that has been like a permanent part of the ground since December is disappearing.
Here was my backyard a week ago: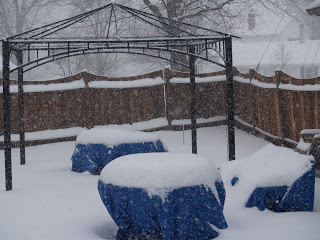 Here it is today.  I think by day's end, all the snow will be gone from the table.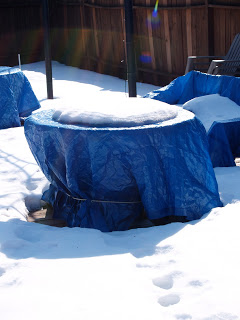 Shhh, can you hear the snow? Like the scene in the Wizard of Oz it screams, "I'm melting…I'm melting." Yes the EVIL snow is dissolving out of sight. Ding, Dong the witch is dead!!
But in reality the snow doesn't resist how the Lord is changing its texture from a solid into a liquid. Quietly and unseen, the snow yields its present form, allowing God to use it in new ways.
Wow, I never thought I would want to be like snow! Yet when I think of how snow yields to its Creator's ways, the image of melting warms my heart.
I hear the Lord whisper in my heart – "Melt into My ways. Yield to where I am calling you."
I look at my backyard garden and see a small hand tool, buried all winter, reappear. 
The musical drips of water from the gutters create small glistening streams that quench the tiny birds' thirst.
More and more I see beauty in this changing season.
Lord, make me like snow. Help me accept who You made me to be and help me to let go when it is time to change. I long to hear your whisper to come into Your hands and be whatever You ask in this season and in next. I melt to You, Lord.
I'm melting… I'm melting…..