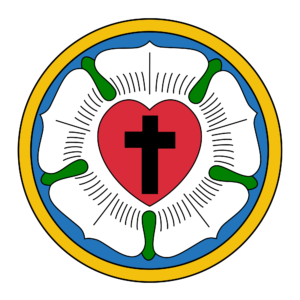 Images of our Theology – Luther's Seal
Do you have an image that illustrates your theology?  A symbol, painting, pictorial concept of your beliefs?  When you "see" God, how do you visualize him/her?
No one requires us to have a model or photo in mind on this spiritual journey.  But this practice is not only fun and imaginative, it is an opportunity to explore a visual depiction of what you believe that helps us identify and clarify our faith.
Most of you know, I just returned from a pilgrimage to Germany where we visited many of the sites that Martin Luther lived.  One day we learned about the meaning behind the Luther Seal, causing me to ponder about my own images of my faith and of God.
Luther's Seal
The Martin Luther seal is also known as the Luther Rose. He designed the final version while staying in Coberg Castle as he waited and prepared to defend his beliefs in Augsburg. He worked with his friend Philip Melanchthon to present what is now called "The Augsburg Confession," the foundation of the Lutheran faith.  (What is interesting to note is Melanchthon intended this work to be the point of reconciliation between the Lutheran reformers and the Catholic Church.  Perhaps in 2016 and as we observed the 500th anniversary of the Reformation in 2017, Melanchthon's and Luther's hope will come true.)
In Luther's day it was common practice for theologians and public servants to have a personal seal, representing their work. Much of Luther's writings were being printed and the Wittenberg printers sought something, like today's use of a logo, to verify works as being authentically written by Luther. Using four full colors in that day of printing could not have been easy and probably had to be finished by hand.
This is how Martin Luther explained his seal in 1530:

"Grace and peace in Christ!
Honorable, kind, dear Sir and Friend! Since you ask whether my seal has come out correctly, I shall answer most amiably and tell you of those thoughts which now come to my mind about my seal as a symbol of my theology.
There is first to be a cross, black and placed in a heart, which should be of its natural color [red], so that I myself would be reminded that faith in the Crucified saves us. For if one believes from the heart he will be justified. Even though it is a black cross, which mortifies and which also should hurt us, yet it leaves the heart in its natural color and does not ruin nature; that is, the cross does not kill but keeps man alive. For the just man lives by faith, but by faith in the Crucified One.
Such a heart is to be in the midst of a white rose, to symbolize that faith gives joy, comfort, and peace; in a word it places the believer into a white joyful rose; for this faith does not give peace and joy as the world gives and, therefore, the rose is to be white and not red, for white is the color of the spirits and of all the angels.
Such a rose is to be in a sky-blue field, symbolizing that such joy in the Spirit and in faith is a beginning of the future heavenly joy; it is already a part of faith, and is grasped through hope, even though not yet manifest.
And around this field is a golden ring, symbolizing that in heaven such blessedness lasts forever and has no end, and in addition is precious beyond all joy and goods, just as gold is the most valuable and precious metal.
May Christ, our dear Lord, be with your spirit until the life to come. Amen."
From the Wilderness Grubok, July 8, 1530
Images of our Theology
I enjoyed a peek inside the meaning of this seal and made me wonder how I would express my faith visually.  Henri Nouwen loved the painting by Rembrandt of the Prodigal Son and use that image for reflection and insight. Visiting an art museum and paying attention to how others express their creativity can be a source for discovering our personal image that resonates with our heart.

Personally I have always loved the painting illustrating the Road to Emmaus and the words of Luke 24 as an image of my beliefs.  The idea of walking along life's path with companions, discussing and sharing all life's events, even dark Good Friday experiences resonates with me. And then having Jesus join us to listen, teach, and accompany us completes the image.  His presence is so real and intimate that our hearts burn with his life giving spirit and our eyes open to new insights of his wisdom.

Working with my spiritual director, once I expressed frustration over my ongoing tension between head, overthinking ( who me??), seeking to understand (and probably control) vs. staying within my center, my heart, the peace and presence of God within. She asked me to describe what I saw when I experienced that displeasure.  I told her it was like an hourglass with a very narrow, barely open passageway for the sand to flow from top to bottom.
She smiled and suggested I find a new image.
HA! Like that would be easy. But with silence, solitude, prayer and lots of just being with God, a new picture emerged:  a tree.

A strong trunk connects the two parts of the tree: with flowing sap nourishing both the top and the roots. The branches sway with life's changes, producing a harvest, taking in oxygen and water, offering shade and beauty to more than just me, and lifting its hands up in praise to our Creator.  The deep, mostly invisible roots, reach into the solid foundation of the ground from which we come, centering my very being. Growth occurs there that is often not seen. The roots expand into different directions, gathering nutrients for the whole body.
The tree also reminds me that living occurs within recurring time and seasons. We can see that in the rings of the trunk, the shedding of leaves, the ripening of fruit, the early hint of green in buds, the appearance of new life in bird nests that often are only visible in the dead of cold winter as empty containers, open, ready to receive and composed of fragmented, common and leftover remnants of life.
So many lessons.
The tree teaches me continuously. Its image helps me articulate my life and express my faith. This symbol nurtures me deeper and reminds me who created me and who I am as a child of God.
Images are powerful tools for clarity and growth. What do you think?  What is your image?
I compiled into a free download some of the German Prayers, Blessings and Quotes we used on the trip or that I found elsewhere. Please just click on the button below to get this resource and I hope you enjoy its words
Click Here to get the resource guide! Thanks!
Consider the questions from my first paragraph once again:
Do you have an image that illustrates your theology?  A symbol, painting, pictorial concept of your beliefs?  When you "see" God how do you visualize him/her?
What would you add?  How has your image evolved on your spiritual journey?   Let's share with one another ideas and insights.