"You are loved. You are cherished. You are worth it. Just rest."
Bonnie Gray
Finding Spiritual Whitespace – Awakening your Soul to Rest.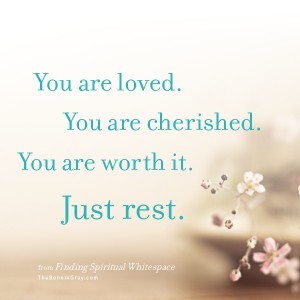 Isn't the quote above just beautiful? Such a reassuring and welcoming invitation to slow down, breath and rest.
I will have a review of Bonnie's new book, Finding Spiritual Whitespace on June 3, but she asked some of us to reflect on one of the quotes from her book today and this one leaped from her page into my heart.
The key word in this book is space. We find clarity when we give our hopes and dreams space to grow. We locate life in the pauses when we behold what really matters. We wake up from groggy, restless sleep and unwrap our true selves when we honor the pacing, rest and rhythm of each moment and season.
I am becoming a more spacious person. I wrote about this awareness on Tuesday when I blogged about Treasuring the Ticks of Time.
We hear God's whisper when we allow the noise levels to drop, creating a silent space. I am tired of overcrowded calendars and top-heavy to-do lists. I need to breath. Rest. Live.
When we empty our hands of what we cling to, quit the striving, the drive to be more, to do more and just to be enough, we discover we are already enough in God's eyes. He loves us just as we are and not for what we do.
At retreat a few weeks ago one of the speakers said:
Everyone you meet
Loves something
Longs for something and
Has lost something.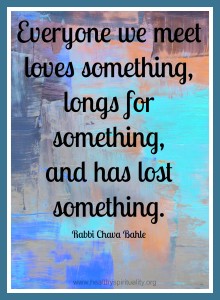 Isn't it amazing when you read/hear two different inspirational words practically falling over each other as they tumble out of heaven and into your soul? Time to pay attention.
I am loved. Every person I encounter is loved. Those I never meet across the world or Internet are loved.
I long for that elusive More, Presence, Fullness for my emptiness. All others long, hunger, yearn for something.
I have lost – loved ones, shattered dreams, even my way at times. I hope to remember that whoever I meet today also has experienced loss, grief, loneliness, fear and confusion.
We are not alone. God is with us, loving and cherishing us, offering us rest. God fills all the spaces with his love and grace, enfolding each of us and indwelling within each of us.
Breathe deeply. Rest. Know you are loved and cherished.