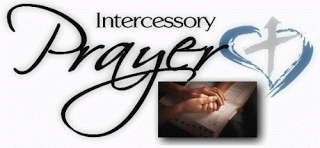 Intercessory prayer is simply praying for others.
Dietrich Bonhoeffer wrote "Intercessory prayer is the purifying bath into which the individual and the fellowship must enter every day."
This type of prayer is a form of loving the other. I imagine lifting people into God's light and love.
This powerful prayer practice can be as a pointed, persistent pleading on behalf of someone else for a deep need.
Some intercessory prayers are general: "Lord I pray for those forgotten or those suffering in such and such country." Or they can be specific: "Lord draw Tom closer to you and give him strength to get through this difficult time."
Often I simply say, "Lord you know best what she needs today. Help her know your love."
Jane Vennard teaches about another form of intercessory prayer is called "arrow prayers." It is like holding a bow, pulling the string back, and letting the arrow fly. This form is spontaneous — the times that prayers for others are pulled right out of me, such as hearing an ambulance siren, or passing a homeless person, or reading of a tragedy in the newspaper.
Sunday's newspaper contains photos of 8-10 people wanted for various crimes. I pause and lift each of them up by name. I often wondered if I am the only one to pray for them.
"The purest form of love is given with no expectation of return. Measured by this standard, earnest prayer for others is a magnificent act of love." 
David Hubbard
The two biggest hurdles I have with intercessory prayer is remembering to pray for someone when asked to or nudged by God and the sometime long period of time (at least in the human mind and my impatience) to know if the prayer will be answered.
In my Bible I keep a list of family, friends, and others to pray for daily. This reminds me. Often I tuck in the church bulletin there too where our congregation prayer needs are listed.
Then I remember to be persistent – I keep praying if the Spirit sends me, perhaps years for an answer. I hold others up lightly releasing them to God who understands and know what they need more than mere mortal me. I do occasionally give God "suggestions" or ask him to hurry up a bit – but so far, I don't think he has taken up my advice.  LOL
How do you pray for others? When you promise to pray for someone, how do you remember to follow up and intercede for them?