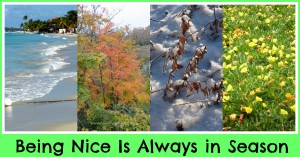 What do you think of when you hear someone described as nice? Is that an appealing attribute?
We were out with friends last week, having a great time. I smiled at my good buddy and spontaneously thought – "She is one of the nicest people I know."
Then I started the internal debate.
Nice?
Is that word strong enough? Or is it a weak way to compliment her? What does nice mean anyway?
Merriam-Webster defines the adjective NICE as kind, polite, friendly.
Hey that sounds good.
But NICE's roots come from Middle English meaning foolish and wanton, from Anglo-French meaning silly, simple, and from Latin ignorant.
OOPs – maybe nice isn't such a nice word after all.
And what's that old joke about the southern girls response to her friend's bragging. "That's nice." (Maybe you don't know that joke but this isn't really the place to explain it.)
It's nice to be important, but it's more important to be nice.
~Author Unknown
Researchers are divided whether being nice is genetic or how we are brought up. But many studies do show those who are nice live longer and are healthier. Compassionate people also are better in tuned with other's emotional state and appear more successful in relationships at home and at work.
I decided when I thought of the word NICE as a characteristic of my friend she was showing me the fruit of the Spirit:
By contrast, the fruit of the Spirit is love, joy, peace, patience, kindness, generosity, faithfulness, gentleness, and self-control. There is no law against such things.
Galatians 5: 22-23
Yep that's it: love, kindness, generosity, gentleness etc.
And note the last line: There is no law, rule, definition, public opinion, old joke – nothing, NADA against these traits that all lead to being NICE.
And as my mama used to say: "You get more flies with honey than with vinegar."
She also quoted Thumper the Rabbit too "If you can't say something nice, don't say nothing at all."
https://youtu.be/I71cY9Ysy5U
Is NICE an appealing attribute? I think it may be one of the best compliments we can give another.
Let's have more niceness in the world. Join me?  
What do you think – is nice an appealing attribute?