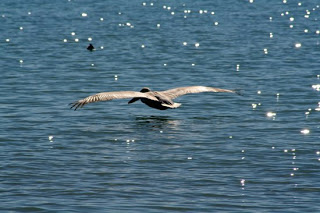 Multitasking. Busyness. Noise.
All modern hassles that I often simply accept, don't fight, and let rule my life. Part of my survival mechanism, I guess.
But lately I have noticing my reading, listening and even prayer is lacking depth – I am skimming in all areas of my life.
Skimming makes me look like I have it all together and am on top of things, yet something is missing. I am not taking the time to develop deep roots – roots that will nourish me through dry periods and hold me steady during the storms of life.
I can blame the Internet. I read this
article
the other day by Nicolas Carr, author of
The Shallows: What the Internet Is Doing to Our Brains,

who believes the internet is changing the way we read and process information. It is a medium based on interruption – one in which we read a snippet, check email, click on a link, Google and Bing – it fosters a chronic state of distraction. Thus, it's really not suited for deep reading and concentration, two elements often associated with the acquisition of wisdom.
Carr started research for The Shallows after he noticed a change in his own ability to concentrate.
"Neuroscientists and psychologists have discovered that, even as adults, our brains are very plastic," Carr explains. "They're very malleable, they adapt at the cellular level to whatever we happen to be doing. And so the more time we spend surfing, and skimming, and scanning … the more adept we become at that mode of thinking."
I have recognized for a long time that stress decreases my ability to concentrate and now feel I have let my brain slip into a mode of skimming the surface instead of fully digesting what I am reading.
I am glad to read the above quote that sounds like this is reversible.
Skimming can be beneficial at times but not all of the time. How can we develop depth? Seeking a set time for silence and solitude for my Bible reading and for prayer is a start. Being aware that I am in "skimming mode" and intentionally deciding if this is how I want to live at that moment may help also.
I think I would rather accomplish less and live a more fully engaged life than to do lots, just skimming the surface. What do you think? Have you noticed you are skimming more?  Is it a benefit or determent to skim?