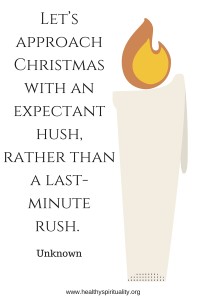 Is your Advent season full with stuff in your hands or a heart stuffed with joy? Is there a whisper in your mind that you love Christmas time, but are secretly glad when it's over? Does the thought of family conflicts, crowded parties, too much tempting food, overspending and unmet expectations deplete your energy and love for the season?
Advent "should" be a time of joyous anticipation and rest and restoration that God keeps his promises. I don't know about the rest of you, but I struggle to find that peace and hope in the busyness during Advent.
"Take time to be aware that in the very midst of our busy preparations for the celebration of Christ's birth in ancient Bethlehem, Christ is reborn in the Bethlehems of our homes and daily lives. Take time, slow down, be still, be awake to the Divine Mystery that looks so common and so ordinary yet is wondrously present.
"An old abbot was fond of saying, 'The devil is always the most active on the highest feast days.'
"The supreme trick of Old Scratch is to have us so busy decorating, preparing food, practicing music and cleaning in preparation for the feast of Christmas that we actually miss the coming of Christ. Hurt feelings, anger, impatience, injured egos—the list of clouds that busyness creates to blind us to the birth can be long, but it is familiar to us all."
Edward Hays
I was reminded of this the other day when I tried to save a few precious moments by grabbing all the packages from the car at one time. I balanced them so very carefully and was quite pleased with my efficiency as I staggered slowly from the car across the garage towards the house.
If I juggled all this correctly I could handle everything!
I did well except for one minor detail. I came to the closed door with so much in my hands, I couldn't open it. 
Advent sometimes feels that way. Busy schedules with cards to write and company coming pack our lives. The calendar fills with parties, extra church services, and Christmas programs.
Even if our datebook is empty, our fidgety hands may hold worry, loneliness, and anger. With hands loaded with bags of emotional burdens, we are unable to open the door into this season.
"God gives where he finds empty hands."
St Augustine.
What are we clinging to so tightly we can't reach out for God? I knew when I met that closed door the other day it was time to breath, to pause and let go.
God wants to give us a full life. We can't receive his gifts this time of year if our hands are full of other things. Instead allowing the world and expectations to control our thoughts and actions, we come to him with open hands so he determines how we spend this season.
This season let's cling more to what we cherish than filling our hands with empty and meaningless details. Open hands enable us to extend our hands to others and to touch God.
How do I fill my heart with joy instead of fumbling through this time with hands stuffed with obligations?
I plan to create time with God. Start each morning with an Advent devotion. Pause to appreciate the wonderful smell and sounds of the season. Hum the carols and pray their words. Savor the tastes and smile more. Say thank you and genuinely appreciate time with my loved ones.
Advent is a time of expectant waiting. Waiting means appreciating the present moment, not worrying about the future. I read the other day that the word "worry" comes from the Anglo Saxon word for "strangle."  Interesting isn't it? Letting go of worry – opens my heart for joy to flow in freely.
A waiting person is a patient person. The word "patience" means the willingness to stay where we are and live the situation out to the full in the belief that something hidden there will manifest itself to us.
Impatient people are always expecting the real thing to happen somewhere else and therefore want to go elsewhere. The moment is empty.
But patient people dare to stay where they are.
Patient living means to live actively in the present and wait there.
Waiting, then, is not passive. It involves nurturing the moment, as a mother nurtures the child that is growing in her womb.
Henri Nouwen
Rest. Peace. Stillness.
Instead of racing around with a never complete to do list, I plan to pause and behold the season. To rest knowing God is in control. To embrace the peace that comes in the candlelight. To breath in the stillness of the manger scene.
Our society screams "buy, rush, overextend." God invites us to joy, reflection and wholeness only found in him.
"It might be easy to run away to a monastery, away from the commercialization, the hectic hustle, the demanding family responsibilities of Christmas-time. Then we would have a holy Christmas.
But we would forget the lesson of the Incarnation, of the enfleshing of God—the lesson that we who are followers of Jesus do not run from the secular; rather we try to transform it.
It is our mission to make holy the secular aspects of Christmas just as the early Christians baptized the Christmas tree.
And we do this by being holy people—kind, patient, generous, loving, laughing people—no matter how maddening is the Christmas rush…"
Andrew Greeley
God gives us joy this season. My hands must be empty in order to receive this precious gift.
"It's sharing your gifts, not purchasing gifts;

It's not wrapping presents, its being present
and wrapping your arms around the ones you love;

It's not getting Christmas cards out on time,
It's sending any card, anytime, at the right time;

It's not having the biggest and best Christmas light display,
It's displaying the Christ light that comes from your heart;

It's not Santa coming down the chimney,

It's Jesus coming down from heaven,
and giving us the gift of eternal life."
Anonymous
Empty your hands and find the joy in Advent.
How are you celebrating Advent this year?
P.S. Last year I wrote an Advent Devotional – Let Every Heart Prepare Him Room. It is still available on Amazon and other sites and I hope it blesses your Advent time.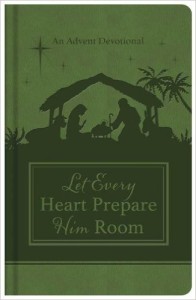 And my lastest book Christmas Seasonings: 101 Quotes and Prayers to Flavor the Holidays.