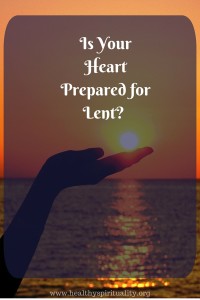 Lent begins this week. Are you ready? Is your heart prepared for Lent?
I used to jump in at the last minute in my preparation for this solemn time of year pondering the time before Easter we call Lent. To be honest, often it would be two weeks into the season before I would think – "Wow, Easter seems early this year? Am I ready?"
Of course, getting ready meant buying spring outfits for the kids and new shoes. Maybe decorating with rabbits and coloring Easter eggs. Ham for the big meal? Sunrise or regular services that morning?
Don't tell anyone, but often I would want to just skip the sad readings in my devotionals, the dreary February weather skies and hop right into green spring in Ohio.
But now I prepare my heart for Lent differently. Perhaps because I am older and closer to death myself. Maybe the truth we call God's love is finally sinking to my dry soul.
I am more intentional about my Lenten practices now and dare I say, look forward to spending in-depth time listening to God. I begin now 3-4 weeks before Ash Wednesday using the four steps below:
Pray – I start with God. Too often I get so wrapped up in detailed planning to suit my own needs, desires and imagination. Now I ask God to help guide me, to give me wisdom to know what to go and what to let go of and to hear him where he is inviting me into during Lent.
Prepare – Two weeks ago, I scoured my bookshelves for what book I already owned about Lent. I watched my emails for new releases and read some reviews. Of course I spent some time exploring my favorite site, Amazon for ideas too. Then I listened – Where are you leading me, Lord? Which books continue to resonate with me?
Prime the Pump – One afternoon I took out a piece of paper and just doodled, dumped and drew. What words – themes from the Lenten season – echoed in my soul? How would I empty my heart, my internal space to create room for Christ? What would I let go of, offer someone, fast from? How would I prepared my space physically to welcome Lent? I made a list of websites with videos, resources guides, ideas for this season. My scribbles filled the page. I stopped and listened once again. I found myself over planning, over thinking, over controlling, and over organizing. I stopped. I prayed. I listened.  
Plan – This year I am going to write daily. I have always been a journal keeper but not daily. God seems to communicate with me with words so I am exploring his Word with words this year.
I purchased a special journal and plan to write my reflections on verses and readings each day.
I found a deep purple scarf to adorn my home altar along with a new candle.
I prayerfully wrote out my desires: to center on God, preferring nothing but Christ, to learn to love like God loves and to listen, abide and serve.
I clarified three questions to ask daily: Where have I notice, met, listen, and worship God today? Where did I find joy and danced with God? Where/how did I create space for him by pausing, letting go and/or being silent?
Here are the books I am using this year:
Desert Banquet – A year of Wisdom from the Desert Mothers and Fathers by David Keller. This is a year long daily but short devotionals based on the Ammas and Abbas sayings.  Remember when we explored them on this blog back in November?    Here is one of the links if you want to visit them again and learn more.
Pauses for Lent – 40 words for 40 days – by Trevor Hudson.  I like the idea of keeping it simple – one word for each day. What is that word saying to me personally?
40 Days of Decrease – a Different Kind of Hunger, A Different Kind of fast – by Alicia Britt Chole. Each day has quotes, a reflection, bible verses and a daily fast. For example, one day you fast from regrets, another stinginess.  
It is never too late to prepare your heart for Lent. Start anytime: God will wait. And I can't wait to see what God teaches me and how he leads me during this special season.
How are YOU preparing for Lent?