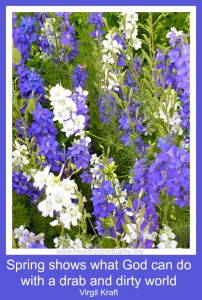 I love spring. The new beginnings – trees spouting green tips, birds caroling from branch to branch, crisp fresh air rushing in from newly open windows and the earth awakening from its dull brown slumber.
Spring is God's way of saying, 'One more time!'
Robert Orben
My Florida friend, Laura, knows I long for spring during the dreary cold Ohio winters. She sent me this quote last week that captures this season:
"The snow has not yet left the earth, but spring is already asking to enter your heart. If you have ever recovered from a serious illness, you will be familiar with the blessed state when you are in a delicious state of anticipation, and are liable to smile without any obvious reason. Evidently that is what nature is experiencing just now.
The ground is cold, mud and snow squelches under foot, but how cheerful, gentle and inviting everything is! The air is so clear and transparent that if you were to climb to the top of the pigeon loft or the bell tower, you feel you might actually see the whole universe from end to end.
The sun is shining brightly, and its playful, beaming rays are bathing in the puddles along with the sparrows. The river is swelling and darkening; it has already woken up and very soon will begin to roar. The trees are bare, but they are already living and breathing."
― Anton Chekhov, The Exclamation Mark
We are to live as Easter people – transformed and alive. Breath in God's new season. Grasp the hope that is erupting all around us.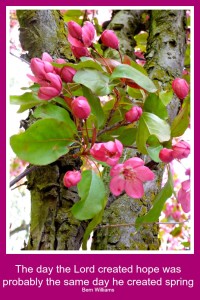 Jerusalem, worship God! Zion, praise your God! He made your city secure, he blessed your children among you. He keeps the peace at your borders, he puts the best bread on your tables.
He launches his promises earthward— how swift and sure they come! He spreads snow like a white fleece, he scatters frost like ashes, He broadcasts hail like birdseed— who can survive his winter?
Then he gives the command and it all melts; he breathes on winter—
suddenly it's spring!
Psalm 147:12-18 (The Message)
The world is blossoming and so will our hearts. Awake. Renew. Bloom in the hope of a new season.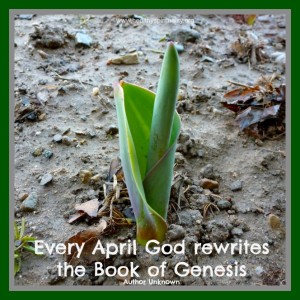 Am I crazy or do you also come alive in springtime?