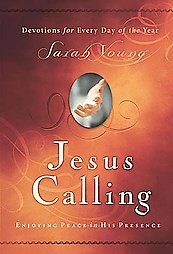 Jesus Calling
If you could write down the words Jesus speaks to you, what would they be?
Sarah Young has written a unique 365 day devotional called Jesus Calling. In her faith walk, she intentionally began to open her heart more and "began to listen to what He was saying."
Young writes, "I had been writing in prayer journals for years but that was one-way communication; I did all the talking, I knew that God communicated with me with the Bible, but I yearned for more. I decided to listen to God with pen in hand, writing down whatever I believed He was saying… my journaling had changed from monologue to dialogue."
Each day in this devotional is written as if Jesus Himself was speaking. The gift size book has one or two paragraphs daily with a message tied to a Scripture. The author encourages the reader to read each entry slowly and to keep a journal to record any thoughts you receive as you listen to God.
Having a daily devotion time is a foundational practice for nurturing a healthy spirituality. Jesus Calling is not an in-depth, challenging book, but a simple heartfelt devotional to ease into your day and to quiet your soul to really listen to God. This book would also make a great gift for giving.
What is God saying to you? Are you listening?