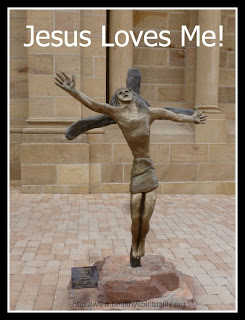 Jesus loves me – what a neat song. The young kids in our Sunday School sang two weeks ago.  You just had to smile listening to sweet fresh voices chime in with "Yes, Jesus loves me."  I think God smiled too.
Occasionally we sing this old favorite as one of our hymns of the day. Adults sing the words with reverence and awe.  It is powerful to express out loud – "Yes! Jesus loves me."
Jesus Loves Me – the Story
Anna Barlett Warner wrote Jesus Loves Me to be included in her sister's novel. Often they would work together on a project. Her sister ask if Anna would compose a children's song that would be sung by a character in her story, to comfort a dying child. Anna responded to this request with the lyrics of the now famous Jesus Loves Me. The book was published in 1860.
Missionaries adopted the song, spreading its fame across the world.  I read one place that said Jesus Loves Me has been translated into more languages than any other spiritual song.
Of the many famous stories about this hymn, one of the most memorable came from the Swiss-German theologian Karl Barth. 
 Karl Barth delivered one of the closing lectures of his life at the University of Chicago Divinity School. At the end of the lecture, the president of the seminary told the audience that Dr. Barth was not well and was very tired, and though he thought Dr. Barth would like to open for questions, he probably could not handle the strain. Then he said, 'Therefore, I'll ask just one question on behalf of all of us.' He turned to Barth and asked, 'Of all the theological insights you have ever had, which do you consider to be the greatest of them all?'
"This was a remarkable question to ask a man who had written tens of thousands of pages of some of the most sophisticated theology ever put on paper. The students sat with pads and pencils ready. They wanted to jot down the premier insight of the greatest theologian of their time.
"Karl Barth closed his eyes and thought for a while. Then he smiled, opened his eyes, and said to the young seminarians, "The greatest theological insight that I have ever had is this: Jesus loves me, this I know, for the Bible tells me so!"
This song holds simple but profound truth in these lyrics.  Its words and music sink into our hearts, no matter our age. Take a moment to recite them out loud as a prayer:
Jesus loves me this I know,
For the Bible tells me so.
Little ones to Him belong;
They are weak but He is strong.
The Bible tells me so.
Jesus loves me! This I know,
taking children on his knee,
saying, "Let them come to me."
Jesus loves me still today,
walking with me on my way,
wanting as a friend to give
light and love to all who live.
 Isn't it somewhat ironic that after 150 years, generations singing and loving this plain little song, most of us don't know its author? The message, the Good News, lives on with God getting the glory. And that is all that really matters.
What song from childhood still holds meaning for you?