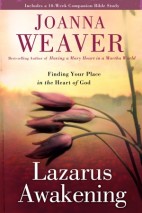 Lent is a time to stir our souls and awaken our spirits by feasting upon great writing. Joanna Weaver's newest book,
Lazarus Awakening
,
is a read that will provide much nourishment for your spiritual journey.
Many of you know Weaver for her best selling and wonderful book,
Having a Mary Heart in a Martha World

and I recommend
Lazarus Awakening
which also explores the famous family that were close friends with Jesus.
Weaver dissects many spiritual questions we all have:
what do we do when God doesn't come through the way we hope He would? What should we feel when what is dearest to our hearts is suddenly snatched away? Does God really love me? What does it mean to be a friend of God?
"I wonder what would happen in our lives if we stopped resisting God's love and started receiving it. What if we spotted trying to do the math, spotted striving to earn His favor? What if we just accepted the altogether-too-good-to-be-true news that the yardstick has been broken and the cross has opened a door to intimacy with our Maker?"
In this book she slowly helps us uncover multiple nuggets of truth from the story of Lazarus dying and being brought back to life by Jesus.
This book is great as a stand-alone read or with a group as it contains wonderful study questions in the back of the book along with a great reference appendix.
I did receive this book as part of Waterbrook's book blogger program but my good review was not required. I did really like this book and would recommend it. In fact, my monthly accountability group plans to use it as our next book to share.
Weaver writes, "
We're asleep, Lord Jesus. What us up! should be our daily prayer, Wake us up to Your loving mercy. Wake us up to Your goodness and Your power to save."
   

Lazarus Awakening

is a book that will stimulate your thinking, revive your heart, and deepen your roots in God's love.