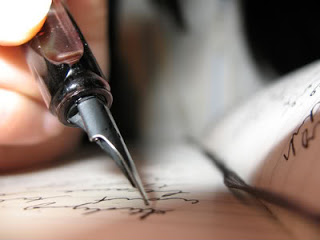 Keeping a journal is a spiritual practice that often helps enlighten and guide when you are discerning a new step in your life. 
Words are powerful. Words clarify, provide direction, and offer a way to sort through the junk to find the treasure.
Several years ago I was in a dilemma. As county health commissioner, I no longer enjoyed the work that tipped more toward bioterrorism prevention than health promotion. My passion no longer lie with personnel and financial tensions overloaded with smallpox, plaque, and pandemic flu.
I had the opportunity to retire, but needed to decide when. This is where my journal helped in my discernment. I charted my feelings, my indecisiveness, my hopes and dreams over a several year period.  
After much turmoil, even some missteps in the wrong direction, I decided on July 2006 as the date. 
I discovered something really odd though, several weeks after making my final decision.
Rereading my journal, I jotted down these words TWO years before – "I think God is telling me I will retire in July 2006."
God gave me the answer all along – was it my foolishness, blindness, ego that made me suffer in indecisiveness?  Or maybe God had lessons for me to learn on that path.
I don't know the answer, but find it reassuring God knew long before I realized it.
My post on Monday about "
You are who you were when you were ten"
 created some interesting comments. 
Michelle
 wrote, "
I think I'll try and remember when my two children are ten to create a journal for them of that year to look back on and see who they were becoming and how much they have grown since then!"
Michelle's comment led me to remember my incident with journaling. She is helping her kids capture a key moment in time. Whenever we take the time to write in our journals, we help to turn on the light that will guide our daily walk. Writing IS a powerful spiritual discipline.
How have you captured your hopes, dreams and decisions in writing?
"For me, writing is exploration; and most of the time, I'm surprised where the journey takes me." 
Jack Dann
"Words are, of course, the most powerful drug used by mankind." 
~
Rudyard Kipling