Next October many churches will observe the 500th anniversary of the Reformation. I am on my church's planning committee for the activities for 2017 which include our pastor's 50th year of ordination, our church's 150th and the Reformation observance. Quite a year, isn't it?
A New Book about Katharina and Martin Luther
A new book by my friend, Michelle DeRusha, called Katharina and Martin Luther officially releases next week on January 31.  I am on her book launch team and was lucky enough to read an early copy.
I am thrilled to have this resource for helping me teach others in my church about the life and love of Katharina and Martin. This well researched and wonderfully written book is essential for anyone wanting to know more about how they lived and how they found each other.
I knew some things about Martin Luther, but not very much about his wife and former nun, Katharina.  Michelle offers an insightful glimpse into what marriage and the rights – in honesty, the lack of rights – of women during the 1500s.  This is an excellent book and I hope many of you take the time to read it.
Interesting Facts about Katharina and Martin Luther.
Here are few interesting facts from Katharina and Martin Luther's life:
Most women in the Middle Ages were illiterate. Going to a convent to be a nun gave them an opportunity to learn to read and write.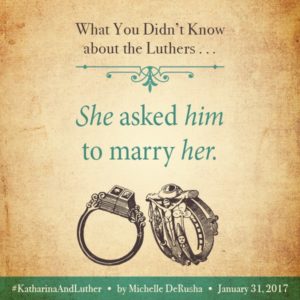 Life expectancy during this times was only 28-30 years for men with women a little more. Childbirth killed 1/5 of all women between the ages of 25-34.  Nearly 1 child in 2 failed to live to the age of 10.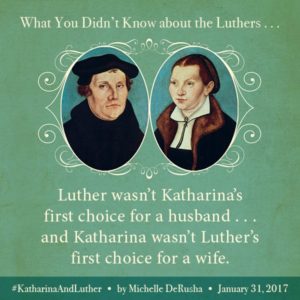 Martin Luther loved being a father and encouraged others to be hands-on in their care.  He called it the holy work of parenting. "Now you tell me, when a father goes ahead and washes diapers or performs some other mean tasks for his child…God, with all his angels and creatures is smiling – not because that father in washing diapers, but because he is doing so in Christian faith."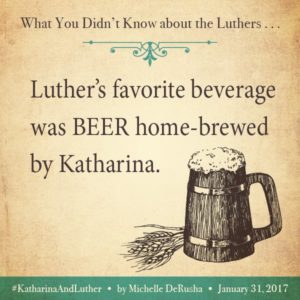 Martin also expressed marriage wisdom: "Marriage does not always run smoothly; it is a chancy thing. One has to commit oneself to it."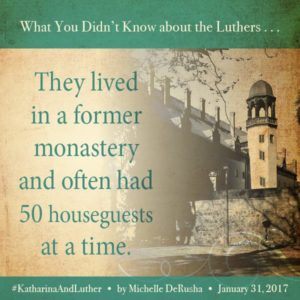 Katharina and Martin Luther tells the rich story of these two people from history and the book also provides an inside look into conditions of living and loving in the 1500's. Michelle's research and resources are well documented, but the story she writes is very readable.
I hope you enjoy the book.
What do you know about Katharina and Martin Luther and the 1500's?