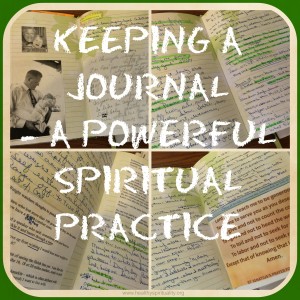 If you have followed my blog for a while you know I keep a journal. I find writing my thoughts, prayers, quotes I like, worries, and happenings ground me and give me a perspective to life. Keeping a journal is a priceless spiritual practice.
Each year at the end of one year and the joyous opening of the new year, I reread my journal, summarizing events, reflections and ongoing questions from the past, then prayerfully writing where I feel God is leading me in near future.
Fill your paper with the breathings of your heart.
–William Wordsworth
How often you write in a journal, doesn't matter – daily, weekly, or only occasionally. But each time we write, we capture a moment in time and create a significant signpost for our journey.
I have tried various forms of journals and keep returning to a 5 by 7 inch, spiral bound journal found in book stores. What is new the past few years is I am cutting out more quotes, photos and using colorful pens for my entries.
Some people get very artistic and creative with their journal – sort of intimidating to my lack of drawing skill. Check out these web pages for some fun approaches to journaling here and here.
Keeping a spiritual journal isn't difficult or that time consuming. It is taking the time to record your experience with God. It helps you pay attention to where he nudges you, smiles at you or even hides from you in your daily life. You will hear God more clearer and deeply when writing in a journal.
Writing in a journal can be powerful for healing and for discernment. It is less of a diary and more a written prayer.
The biggest question I get asked when speaking about the practice of keeping a journal is privacy. "Aren't you afraid others will read what you wrote?"
I like to share a little poem I heard a number of years ago:
Now I lay me down to sleep
I pray the Lord my soul to keep.
If I should die before I wake,
Please throw my journals in the lake.
Now seriously, don't throw them in the lake. I am honest in what I put into the journals, knowing fully that my kids may and probably will read them someday. Sometimes I have been purposely vague in details – I know what incident I was referring to but others would not. The vast majority of time it is 100% vulnerable me.
I consider the journal a spiritual legacy for the next generations. I have my Aunt Anna's journal and they are priceless for me. I wrote about her on earlier blog posts here and here. I fully intent to leave my many many journals to my kids and grandkids.
So if you are not a journal keeper I encourage you to consider it. If you have been in the past but been lax in writing lately, I hope you pick that pen and start again. If you write in one now, may the practice continue to bless you and others.
Do you write in a journal and if so, what has it taught you?