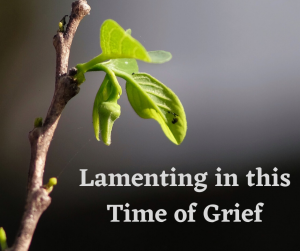 Lamenting. This is a word we don't use much anymore but it is a spiritual practice that arises in a time of grief. Right now, I am overwhelming with loss, sadness, and to be honest, heartache. I am lamenting.
I am a number three on the Enneagram so I have much difficulty in naming my emotions. I want to keep up my image of an optimist, in charge Christian. I hold onto the smiling mask to my face so you don't see my weakness. I don't want to bother you with my burdens. But today I will confess I am lamenting. I am grieving. I am crushed with the weight of discouragement and depression.
I am not going to list here all the upheaval that I am sure all of us have faced the past few months. You know them. On top of our collective experience, each of us also feels raw from personal disappointments, difficult decisions, and unknown discernment of our next steps. We didn't choose or desire these troubling times.
Not your normal hope and uplifting inspiration you usually find here at healthy spirituality. I apologize. Yet the practice of recognizing what we are feeling and expressing these emotions in a healthy manner is part of life. I hear God inviting me to pause and behold my present moment, acknowledging how I feel and how much I need him.
Today I lament.
The Spiritual Practice of Lamenting.
Ever consider lamenting to be part of your spiritual toolbox to grow closer to God?   The past few weeks I have been reading about lament and letting go. Perhaps this practice is most appropriate for us at this time, even essential for us.
Lament arrives in our hearts when our world flips upside down and we lose our sense of meaning and balance. Our faith shatters. I told God this morning I felt like I was on thin ice and could hear the foundation beneath me cracking. I smiled when I sense he told me he had the whole world in his hands and that included me. He would catch me. Hold me. Save me.
Lament fills the pages of the Bible, especially in the psalms where 1/3 of all these wonderful verses are lament. Job and the book of Lamentations present us with lament as much of the Old Testament prophets. And Jesus wept – when Lazarus died, over Jerusalem and on the night he prayed in the garden before his arrest and crucifixion. Lament is a normal human reaction. God understands.
"Lament is not despair. It is not whining. It is not a cry into a void. Lament is a cry directed to God. It is the cry of those who see the truth of the world's deep wounds and the cost of seeking peace. It is the prayer of those who are deeply disturbed by the way things are." – Emmanuel M. Katongole and Chris Rice, Reconciling All Things
Lament isn't a lack of faith; it is a step into faith, into the unknown with God guiding and being with us. God invites us to come closer and cry with him. He collects our tears.
"Truly this is my hope and my only comfort – to fly to you in any trouble, to trust steadfastly in you, to call inwardly upon you, to abide patiently your coming and your heavenly consolations." — From The Imitation of Christ, by Thomas á Kempis
How I Practiced Lamenting
I rest.  I repent.  God refreshes.
I paused this morning and came to God in grief.
I started with several moments of slow deep breathing (actually I think I paused to breathe in and out more than 10 minutes until I finally let to into God's presence). Next, I filled a legal pad size paper full of feelings, complaints, and fears.
My trembling hands gripped the paper – me on one side, God on the other. Together we held my written lament. It took time to release them to him. Funny how we can cling to even bad, uncomfortable feelings. I read this morning on Godspace this description:
"There is a picture in my mind of a person lying on top of a cliff holding on for dear life to something that has fallen over the edge. Energy and strength draining out, and down over the cliff. If she just opens her grip and lets go, she can rest, regain strength and energy, get up and walk away, back into …what?

Leaning into Jesus, with open hands and arms no longer filled with losses that weigh us down.

When we are so busy holding on to the losses that anchor us to that cliff, it is difficult to look up and see the hand of Christ reaching down, it is even harder to reach out with open hands to take hold of the hope of resurrection that Christ offers." 
This image helped me let go.
I confessed I am weak. I told God how much I needed his strength. I need God. I can't do this on my own. His presence invited me to rest in his grace.
We took this written confession out to the kitchen where the paper shredder awaited. I prayed once again then as I inserted the paper to be tattered into bits.
I thanked God for his goodness, forgiveness, and openness to give me permission to lament.
This catharsis occurred this morning. As I write this later in the afternoon a sense of calmness permeates my heart. The weight of the world has lessened. God is in control.
Rest. Repent. Refresh. The recipe for lament, nourishing me in my hunger for peace and filling me with hope.
Perhaps you need to lament too.
Maybe allow yourself to grieve, to cry, to sob your sorrow to the Lord.
I am thankful for the practice of lamenting that helps me release my control, my sadness, and my fears into God's safe and abiding hands.
How do you practice lamenting?