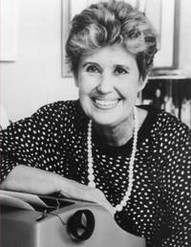 I am excited. I leave today to travel about three hours south of my home in northwest Ohio to attend the Erma Bombeck Writers Conference in Dayton. This wonderful workshop is offered every two years and focuses on Erma's legacy of great writing, especially as a columnist and a humorist.
The Bombeck Workshop is the only one in the country devoted to both humor and human-interest writing and is sold out each time it is offered. It features more than two dozen professional humor and human-interest writers on its faculty, offering sessions on the craft of writing, turning an interest into a profession, marketing, publishing and more.  
And you're guaranteed to laugh. A lot.

 

Did I mention laughing? Lots of laughter.
What is it about Erma's writing that still brings smiles to our hearts?I want to be a writer like her. Maybe I can bring back a few of her secrets to share next week, but I thought in honor of Erma we all could sit back and enjoy some of her words today:
·

     

If you can't make it better, you can laugh at it.
·

     

In two decades I've lost a total of 789 pounds. I should be hanging from a charm bracelet.
·

     

Never lend your car to anyone to whom you have given birth.
·

     

One thing they never tell you about child raising is that for the rest of your life, at the drop of a hat, you are expected to know your child's name and how old he or she is.
·

     

People shop for a bathing suit with more care than they do a husband or wife. The rules are the same. Look for something you'll feel comfortable wearing. Allow for room to grow.
·

     

Housework is a treadmill from futility to oblivion with stop offs at tedium and counter productivity. 

·

     

When mothers talk about the depression of the empty nest, they're not mourning the passing of all those wet towels on the floor, or the music that numbs your teeth, or even the bottle of capless shampoo dribbling down the shower drain. They're upset because they've gone from supervisor of a child's life to a spectator. It's like being the vice president of the United States.
·

     

I'm trying very hard to understand this generation. They have adjusted the timetable for childbearing so that menopause and teaching a sixteen year old how to drive a car will occur in the same week.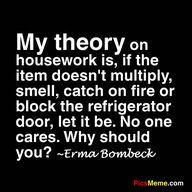 Erma left us all a legacy of wisdom and joy. That is the kind of legacy I would love to leave too –

 

A path lit by God's joy and guided by His wisdom to make our journeys here brighter.
How about you? What kind of legacy do you want to leave?