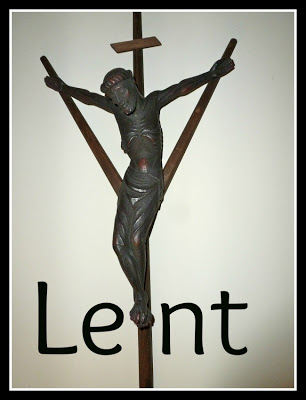 Lent begins in two weeks. In my church and I think this is true for other denominations, we don't sing any Alleluias during lent.
Why?
I don't know.
I looked it up.
In the season of Lent we focus on repentance and being sorry for our sins. Singing or saying the word "alleluia" has historically been suspended during Lent's forty days. The omission of alleluia during Lent goes back at least to the fifth century in the western church.
Some churches even sing farewell to Alleluias the Sunday before Ash Wednesday.
One other unusual ritual with this normal expression of praise is "burying the alleluias."
Yep, you read that correctly. Some churches make an alleluia from paper, fabric, metal, wood, or some other natural material that may be carried in procession or might lead a parade accompanied by instruments and singing. Burial could take place in the ground, or the alleluia could simply be placed in a suitable container that will remain in the worship space as a visual reminder of alleluia's absence during Lent.
Lent is practiced as a solemn and soul-searching time. One of fasting and abstinence. I understand taking the time to consider on my sins, ask for forgiveness, and ask the Lord to help me lead a life more reflective of Him.
"Yet even now, says the Lord, repent and return to me with all your heart" Joel 2:13.
Yes repent, but also return to the Lord with all your heart. How can we do that this season?
We walk with Jesus through His story – His suffering, His death and also His resurrection. We are an Easter people – eyes on the living Christ and hearts fixed only on Him.
I sense this season needs joy too. 
My last post I mentioned I am
sending handwritten notes to people
. The response I received both in the comments and many through emails amazed me. People are hungry for connection. This is a positive ritual for my Lenten journey.
Kindness and joy will be two spiritual practices I employ each day during this Lent. I want to smile more, give more and be more for others. Compassion and joy bring delight to God and I can't think of a better way to honor Him.

And yes I will participate for a second year with the fun and educational
Lenten Madness.
  Based loosely on the wildly popular NCAA basketball tournament, Lent Madness pits 32 saints against one another in public voting as they compete for the coveted Golden Halo. But it is more than that: Lent Madness is really an online devotional tool designed to help people learn about saints. The competition begins on Thursday, February 14 and takes place at
www.lentmadness.org
The format is straightforward: 32 saints are placed into a tournament-like single elimination
bracket
. Each pairing remains open for twenty-four hours, and people vote for their favorite saint. Sixteen saints make it to the Round of the Saintly Sixteen; eight advance to the Round of the Elate Eight; four make it to the Faithful Four; two to the Championship; and the winner is awarded the Golden Halo. The 2012 Lent Madness champion was Mary Magdalene.
The two mad capped and slightly crazy czars of Lenten Madness are Rev. Tim Schenck, an Episcopal priest and rector of
St. John's Church
in Hingham, Massachusetts and Rev. Scott Gun, Executive Director of 
Forward Movement
. Their funny videos, antics and saintly sarcasm brings joy to Lent and I think that brings delight to God.
And if my saint wins this year, you will probably hear me shout "Alleluia" even before Easter.
What positive activity do you plan for Lent?