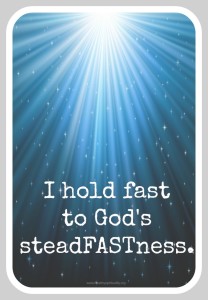 Lent begins this week and many people decide to fast from something during these 40 days before Easter.
We hear our friends give up chocolate or ice cream or meat on Fridays during this time, forgetting the practice of fasting isn't done by itself but accompanies giving and prayer too.  Self-denial, though can leads to a greater sense of wholeness.
Fasting has a long history both in the Old and New Testaments. In Old Testament times, fasting was observed to express grief.
Fasting from something isn't always food. One year I gave up sarcasm, which proved much difficult that I ever realized.   Some people will fast from media or spending so much time on blogs or emails.  Others try to give up gossip.
Interesting to ponder what we are addicted to or what distracts us from God and give that up or at least reduced it during Lent.
Martin Luther once said, "Whatever your heart clings to and confides in, that is really your God."
A newer trend is not necessarily to fast FROM something in the negative fashion, but to add something.  Sending a handwritten letter each day, offering to serve in a new area, give a compliment to another person every day, or reading a Lenten devotional.
No matter if you abstain from something or try to grow spiritually in an intentional way during Lent, the focus is always on drawing closer to God. What can we do different or let go off or give in order to love God deeper?
But this year I have been wondering about Lenten fasting in a new way. A few weeks ago this Bible verse resonated with me:
"They have given freely to the poor, and their righteousness stands fast forever." 
Psalm 112: 9
The word "fast" has additional meanings and I never before contemplated that with Lent.
Fast can also mean to hold fast, to cling. In Old English this word originally meant to be "firmly fast, steadfast and secure." In Middle English fast implied to be close and immediate.
This year during Lent, I plan to be more intentionally in holding FAST to the Lord.  I tend to let discouragement overwhelm me. I want to quit too easily and slip into the "poor me" self pity party mode.
I choose to firmly fasten myself to God. To rest in His secured arms. To trust him more. A different kind of fast this year.
My Lenten practice is to hold fast onto God's steadFASTness.
How are you planning to honor Lent this year?