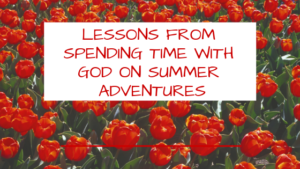 I learned many lessons from spending time with God this summer.  I journaled this morning that I feel so blessed, grateful and busy.  I am overwhelmed both by God's goodness and all the fullness he is pouring into my heart right now.
I also feel like I've been thrown into a rushing river, not drowning, but being pushed along in unpredictable, wild rapids – exhilarating joy accompanied by exhausting journey.
Remember the poem – A Bike Ride with God.  Here is the link to when I shared it previously. It's a great story and to reread once again. Yes, this is exactly how I am feeling today, and God is leading, I am pedaling.
What am I learning spiritually in the midst of this craziness? Surprisingly I am hearing God, seeing him in these experiences and finding lessons, especially in prayer.
Time with God Praying with Purpose
Dialogue prayer took form in my journal while I was on my 8-day silent retreat in early July.
Dialogue prayer reflects the basic definition of prayer – a conversation with God. What is different is the format when writing out the prayer.
The entire process is bathed, submerged in prayer. Solitude and silence join on this holy ground too. On my retreat, my dialogue prayer looked like a dramatic script for a play.
I wrote a blog post about this form of prayer here and gave some examples.
This format quiets my inner chatter and helps me hear God.  Rereading what I wrote later, I am amazed at what bubbles up on the pages. Wisdom and love carried me well beyond the end of the retreat.
Time with God Praying Boldly
God is calling me this summer to be courageous, bold and to take risks with and for him. I hear "Let go and trust me, Jeanie." 
During the retreat I gave God my "story."  You know those lines, really those lies, you always tell yourself, yet hid from others.  "You are not good enough" is one of those narratives I deeply held onto in my heart.
I surrender that sentence to God on the retreat. I held it out to him and felt it shatter into a gazillion pieces. I know now that belief – one I never thought I could release – was a lie. I am a beloved child of God and that is enough.
God also surprised me this summer and opened the door to return to school.  What? Graduate school at my age? At this busy time when my church job is ramping up? Getting a Masters in Theology was never on my radar, but I felt strongly God's invitation to enter this new adventure.
Hesitantly with much prayer I said yes. I made a bargain with God – one course at a time and we would discern together if I could keep going.  In August I took the first course, a one week intensive at Wesley Seminary in Marion Indiana. My deal with God?  I'd give him this week and we would decide on that Friday. (Big of me, right? LOL)
By Friday, I knew I would take at least one more class – an online one that began this week. I am being stretched in my mind and heart and fed spiritually with this work. Remember this line from the movie, Chariots of God – "When I run, I feel His pleasure." That is how I feel.  When God and I study together, I feel His pleasure.
Time with God Praying Tears
I am not a crier. My eyes rarely even midst over. Sometimes I think something is wrong with me but looking back in my life, tears just don't well up in me even when I experience deep feelings. I don't cry. Nope, I don't cry.
I cried this summer.
On our Baltic Sea trip in July, we stopped at St. Petersburg Russia and visited the Hermitage. As readers of this blog know I am a huge Henri Nouwen fan and he too stepped into this beautiful museum and experienced a life changing moment. I walked in Nouwen's footsteps this summer.
The Hermitage houses Rembrandt's painting The Return of the Prodigal Son, also the title of a book by Nouwen.
The Rembrandt Room was towards the end of our tour. As our group entered, the guide took us section by section telling us the stories behind many of his paintings. My daughter nudged me, grabbed by arm and whispered, "let's go find it."  She knew I only wanted to see one painting.
We tip-toed away from the group and inched down the long room, looking for the Prodigal Son. Scanning, seeking, longing to find it. Must have been like the father in this biblical story felt –  ever watching for his loved one's return.
But while he was still a long way off, his father saw him and was filled with compassion for him; he ran to his son, threw his arms around him and kissed him.
Luke 15: 20 
At the end of the room, the painting waited for me. For a few minutes, a cluster of Japanese tourists crowded around the painting and then poof: everyone disappeared.
God gave me more than 5 minutes alone with Rembrandt, Nouwen and himself on sacred ground. I moved close studying the details, then moved back to drink the whole portrait into my soul.
My eyes prayed what my voice couldn't speak.
I cried.
Time with God Praying with Delight
I get so focused I forget to savor the joys. I had two paper dues last week from my first class and the new online class began with assignments looming. Laser-focused I worked, concentrating on the readings and pounding out words, squeezed from deep inside. Yep, I felt like a spent lemon after making lemonade. Then our friends had the audacity to want to go out to dinner Friday night. My family wanted to eat out Saturday night and another set of unexpected company showed up on Sunday I. don't. have. time. for. this!!
Each day having deadlines helped me get the work done. God give me time each day to accomplish enough to enjoy the evening. What a blessing the balance of work and friendship was, and I do believe I did a better job because friends brought me delight.
I cannot even imagine where I would be today were it not for that handful of friends who have given me a heart full of joy. Let's face it, friends make life a lot more fun.
Charles R. Swindoll
Lessons abound if we pay attention and ask God for wisdom. I am so grateful for summer and its messages about life, friendship, obedience, and love.
I think over again my small adventures, my fears, those small ones that seemed so big, all those vital things I had to get and to reach, and yet there is only one great thing:
to live and see the great day that dawns, and the light that fills the world.
An Old Inuit Song
What have you learned from God this summer?