This is a series of reflections following my trip to the Holy Lands this fall. What a profound and life-changing experience to walk where Jesus lived. Visiting Israel opened my eyes and refreshed my heart on so many levels – historically, politically, biblically and spiritually.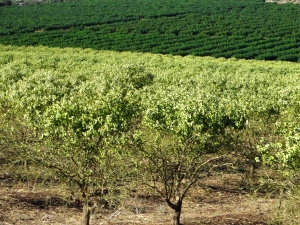 Olive trees thrive in the Holy Lands. Every meal we ate offered at least one form of olives. Olive oil and olive wood gifts decorated the shelves of stores we visited. We passed miles of olive tree groves.
Olive trees don't grow in NW Ohio, so this is a tree I wasn't familiar with. I read and heard about the Mount of Olives. We visited the peaceful Garden of Gethsemane where Jesus prayed among the olive trees. We watched workers harvesting the branches.
But it was something our tour guide said that resonate within me and caused me to listen more closely to the lessons from the olive trees.
George told us that olive trees could grow in any type of soil and had shallow roots. With this limited root system, it was best to plant the trees near the bedrock so their roots would wrap about the solid foundation and be able to withstand the wind and storms.
Not a bad image for us spiritually too. I like the thought of digging deeper, clinging to the true Bedrock for my foundation.
Olive trees taught me other lessons too.
Did you know some olive trees in Israel are estimated to be 1000 and even 2000 years old? The trees we saw in the Garden of Gethsemane weren't that old, but did grow from the base of the old trees that may have been there from the time of Jesus. They are virtually indestructible; even when they are cut down, new life will grow back from the roots.
A shoot will come up from the stump of Jesse; from his roots a Branch will bear fruit.
Isaiah 11:1 (NIV)
Olive trees can remain productive for as long if they are pruned correctly and regularly. The crop from old trees is sometimes enormous, but they seldom bear well two years in succession, and in many cases a large harvest occurs every sixth or seventh season. Olive trees give me hope and encouragement in time of pruning and seasons of rest. They also remind me that we are called to bear good fruit our entire lives even as we grow older.
Even in old age they will still produce fruit; they will remain vital and green.
Psalm 92:14
Olive trees are not impressive, like the giant oaks or majestic redwoods. Their gnarly twisted trunks with their short squawky stature seem ordinary and even ugly at first. But think about their strength and endurance – lasting for so long. What beautiful wood appears with the work of the Master.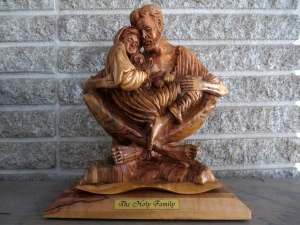 I had forgotten until writing this post that the first time the olive tree is mentioned in the Bible is the story of Noah. The olive branch is the symbol of peace. And we saw the word "PEACE" spelled out with white stones in the Garden in our candlelight processional our last night in Jerusalem. That Thursday evening we attended a peaceful liturgy in the Church of All Nations. We came there to pray just as Jesus came to that sacred location to spend time with his father. Bible verses were read in different languages followed by silence, then chanting. We then walked outside to process around the olive trees lit only by the moon and soft candlelights. Ironically as we quietly chanted our praises to God on this holy ground, each carrying a glimmering candle, we could hear gunshots by the near Temple Mount area. This experience deepened my commitment to pray for peace in this blessed and wonderful part of God's creation.
This photo is blurry since it was so dark but will give you an idea about how it looked.

"Then the dove came to him in the evening, and behold, a freshly plucked olive leaf was in her mouth; and Noah knew that the waters had receded from the earth."
Gen. 8:11
Lord, may the floodwaters of violence, distrust and hate recede from the earth.
Lots of lessons from the olive trees that I won't be forgetting for a long time. Isn't that so true of God's creation – he teaches all the time in nature if we pay attention and listen.
What have you learned from nature lately?