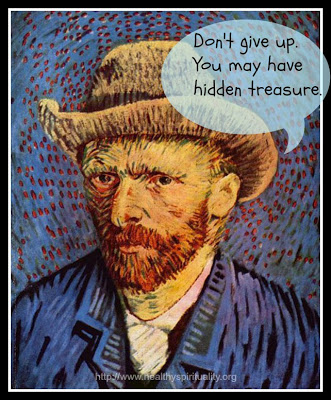 [contact-form][contact-field label="Name" type="name" required="true" /][contact-field label="Email" type="email" required="true" /][contact-field label="Website" type="url" /][contact-field label="Message" type="textarea" /][/contact-form]
The Van Gogh Museum in Amsterdam announced Monday, the discovery of a newly identified painting by the artist. The landscape is titled "Sunset at Montmajour."
What is so unusual about the discovery is the painting laid neglected in an attic for many years. The painting was first thought to be a fake and worthless but after study, research and perseverance, the truth was revealed.
Truth often isn't obvious at first.
 One has to take time to study and know. We hurry past the real stuff to consume easy, convenient and artificial flavors of the world. We swallow the first analysis or opinions instead of letting the facts unfold and emerge.
The van Gogh painting, banished to the attic, unknown to the public and out of sight was easily dismissed by the experts. But two years ago new techniques and probably a curious attitude and open mind, took another look at the art.
Many times our gifts languish, hidden away. We fear someone will call us a fake, a fool or a forgery. Maybe someone has laughed, rejected us. 
Is it time to try again?
Somewhere, someone didn't give up. This painting was judged a fake multiple times in the last 100 years. Someone dug into storage and retrieved the painting one more time. Someone else took the risk and tried new technique to research its authenticity.
Never, never, never, give up – 
Is it time to try something once again in your life?