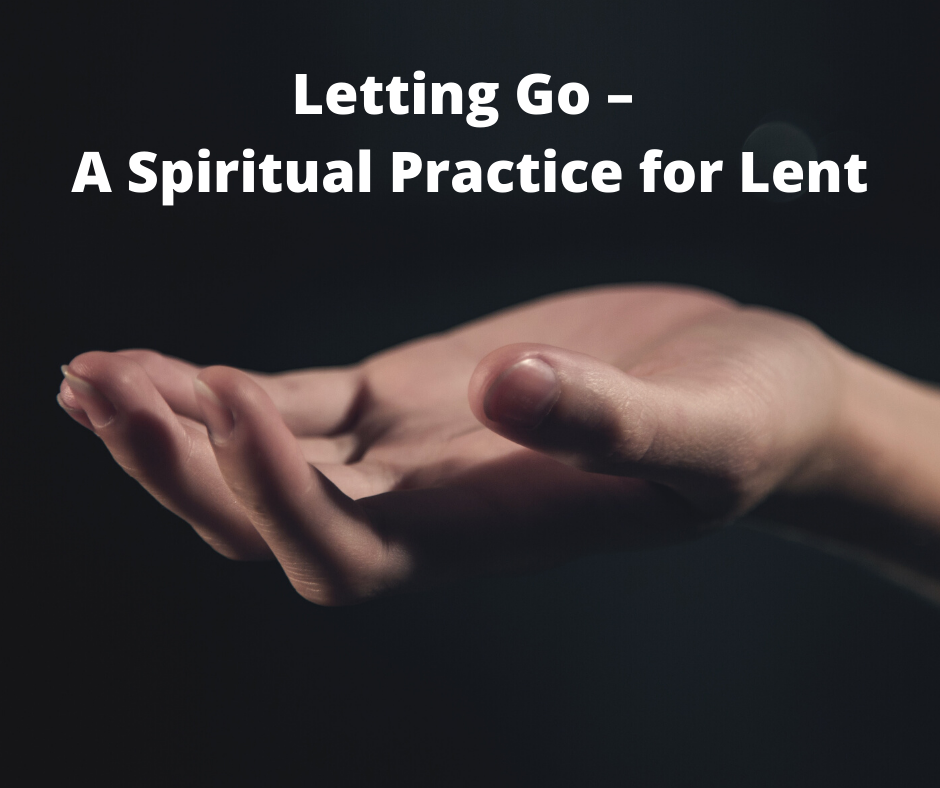 Lent begins with Ash Wednesday on February 26 this year of 2020. Each year I listen for a theme for these holy 40 days before Easter and pray I lean into Lent with openness and obedience.
Letting go is a practice calling to me this year.
Letting go creates space for God, for my own spirit, for others to enter in. This follows well my theme and word for the year.
Letting go is a path of subtraction, not addition. Letting go of what draws me away from God instead of closer to the Lord. Of holding my palms upward, holding all things lightly and given to God to do as he wills. Thomas a Kempis, The Imitation of Christ, advocated making a regular practice of letting go: "To sum up, dear friend of Mine, unclench your fists, and let everything fly out of your hands. Clean yourself up nicely and stay faithful to your Creator."
During Lent this year, I plan to listen. I hope to list all and any attachments that sidetrack me from keeping my eyes always on the Lord. Are there false beliefs muddling my vision? Stories no longer useful for my soul and for the glory of God? Useless habits and distractions? Unnecessary snacking weighing me down physically and/or spiritually?
There where clinging to things ends, there God begins.

Meister Eckhart
 In 2017 I published 40 Voices – a Lenten Devotional. Here is an excerpt from that book that still is available and may be a perfect companion for you during your own Lenten journey this year and the practice of letting go:
Untying Our Knots
As they approached Jerusalem and came to Bethphage and Bethany at the Mount of Olives, Jesus sent two of his disciples, saying to them, "Go to the village ahead of you, and just as you enter it, you will find a colt tied there, which no one has ever ridden. Untie it and bring it here. If anyone asks you, 'Why are you doing this?' say, 'The Lord needs it and will send it back here shortly.'"
They went and found a colt outside in the street, tied at a doorway. As they untied it, some people standing there asked, "What are you doing, untying that colt?"
They answered as Jesus had told them to, and the people let them go.
Mark 11: 1-6
I grabbed my favorite necklace to wear with my blue sweater, only to discover that the chain jumbled in several knots, kinks, and twists. What a mess. I worked on the snarls for several minutes before calling my hubby – renowned for getting knots out of my jewelry. He has rescued me from myself more than once in our marriage. Sometimes a gal needs a little extra help with untying and letting go.
One word jumped out to me as I sat and slowly read the words from today's passage in Mark. This word reminded me about how often I need help straightening out, not just my jewelry, but my life.
Did you catch the word and related words that are repeated five times in five verses? Five words all linked to the word, untie.
I pay attention when a word is mentioned multiple times and I open my heart to hear its lesson. When I read the Bible, and see a pattern like this, I ask: What does this mean? Why does this word or phrase or image resonate in my heart? What is God inviting me to let go?
Jesus sent two of his disciples on a trip into town to find and bring back a colt for him. Jesus knew the colt was tied at a doorway. The disciples couldn't see it yet. They simply trusted, obeyed, and found the colt. They knew to look for this clue – a colt tied to a doorway. A repeated word is also a clue and an invitation to ponder.
"Untie it and bring it here" is Jesus' command. It is a wonderful statement to bring to our Lenten prayers. What Lord do you want me to untie and bring to Jesus this season? What do we need to unravel? What are we clinging to Jesus wants us to bring to him?
Jesus knows where our knots are located. He sees the sin that tangles our hearts. He understands the hurts to snarl our beliefs.
Sometimes getting a knot untied takes time and intention. Other times, I am surprised how easily I can disentangle the rope. Often I need extra help. But the result is freedom, being untied from what is holding me from being closer to God. Letting go can be difficult.
Guilt, fear, and discouragement tie us down. Worry and duties entangle us instead of bringing us delight. We hold fast to our grown-up gadgets such as cars and tech. We would rather cling to past hurts than forgive and move on. It's easier to be sarcastic and to gossip than it is to care and make a difference. We are weighed down by how we used to do things instead of taking the risk to try something new.
The phrase "tied to a doorway" echoed in my heart too. A doorway is a symbol for a transition. This image presents the question: What am I clinging to which is holding me back from taking the next step?
Jesus invites us to "untie it and bring it here." During Lent this year, pay attention to what traps you and what burdens you carry in your heart. What can we give up into Jesus' hands and let go? Freedom and love wait for us instead of the weight of burden.
Jesus frees our tangled messes, unties our snarled sins, and sets us free.
Lenten Image: Piece of rope to untie
Question: What do I need to let go of and give to God?
Prayer: Lord, take all my knots that intertwine my walk with you. I give to you my tangles, messes, and sins. Set me free, Lord.
May this coming Lenten season be a time of openness and letting go for you. What invitation are you hearing as Lent approaches?