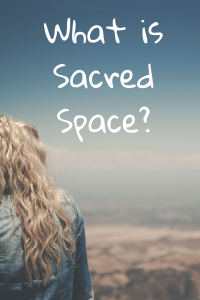 What is sacred space?
You may at first think of a physical space such as a grand cathedral oozing with the presence of God or the delight of gazing upward amidst stately Redwoods.
The awareness of sacred space may arise when watching meteors race across the sky or pausing to breathe in the colors of an amazing sunrise or sunset. God is quite the artist!
Sometimes my prayer chair next to my home altar creates a sacred space for me.
My word for 2020 is sacred space. Ok, that is two words, but I think both of needed. At least longed for deep within my spirit.
Sacred Space
Holy ground is all around when we see the sacred in both our physical and spiritual geographies.
This year I want to intentionally practice noticing and honoring the sacred everywhere:
In my ordinary flat territory (boring? bleak?) of northwest Ohio. Listen to the land where God has planted each of us for this season of life.
In the space between others and myself as we share life, stories, struggles, joy. Be fully present, beholding God within the person right in front of me.
Discerning, surveying and explore my own soul landscape with God as my guide and teacher.
Pay attention to the presence of God in worship, in music, in nature and hear his messages of love, grace, and forgiveness.
Be awake to experience grace in every place and to express these moments in writing, voice, and deepening discernment of God.
I will periodically share on this blog my journey this year into sacred space and look forward to hearing your reactions and insights about holy ground all around.
May we all know grace in every place.
What sacred spaces surround your soul? What is your word of the year if you have one? Let's share.
What I am currently reading: I am rereading Timothy Gallagher's book The Examen Prayer – Ignatian Wisdom for Our Lives Today. This writing reminded me about the sacred transition time into deeper prayer (I rush into my time of God way too quickly). He writes, "Transition: I become aware of the love with which God looks upon me." Wow-what a slowing, loving way to enter God's presence.
What I am listening to: Listen to the Renovare podcast episode #175 and the interview with Carolyn Arends and the contemplative community. Even as an introvert, I experienced a deep longing for this type of fellowship with other contemplatives