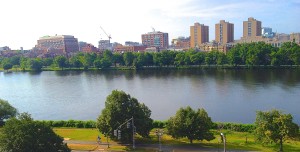 We all have them. Assumptions. Biases. Preconceived notions.
     We cling to them.
          We defend them.
                  We bet our lives on them.
Sometimes they are so much a part of us, we aren't even aware of their presence.
          And sometimes we unclutched our fists and let them go.
We visited Boston this past week for the Fourth of July.
     Yes we heard the Boston Pops and witness – dare I say – the best fireworks display I have ever seen.
         Yes, we experienced Hurricane Arthur, but the wettest moment occurred walking back to the hotel 12 hours before Arthur's arrival in a sudden downpour, fierce wind gusts and brilliant lightening.
               Yes, most of the time the weather cooperated and Boston opened her arms to embrace us.
Boston's warm and everywhere we turned hospitality won our hearts and made us her fans.
My assumption, bias and preconceived notion? I am ashamed to write this now, but I didn't want to go back to Boston. In the past my experience of that city in the northeast was rude and full of "east coast attitude."
This small town Midwest gal expected the worse. I was wrong.
Boston – you wow'd me.
I saw residents politely thank law enforcement for watching and protecting them in the massive crowds celebrating the holiday.
People who served us in restaurants, tourist areas, and the hotel went out of their way to be helpful and friendly. They actually seemed to enjoy their work and had fun interacting with us.
People smiled and held doors for us.
The icing on the cake was getting an email from Irene, one of this blog's commenters who shares wonderful resources with all who read here. I didn't know but she lives there and invited Bill and me to sit with her and her family during the fireworks. Of course a local knows the best viewing spot, so we jumped at the chance, not only to meet her, but also to enjoy the holiday with her. Thank you, Irene!
This experience in Boston – assuming the worse, clinging to previous biases about the Northeast and holding onto preconceived notions about New England attitude reminded me of what St Ignatius teaches about disordered attachments.
St. Ignatius called anything that hinders us from growing closer to God or doing His will a "disordered attachment." These could be good things, just not in the right priority.
What fills my hearts first instead of God? The list is endless. Physical things – like loving my house or brand new car. Feelings: clinging to self-pity or discouragement or anger instead of love and faith. Holding tightly to a pastor, the way we used to do things at church or even my images of God. Clinging to my prejudices and assumptions also become obstacles to the truth and the Truth.
Thank you Boston. Thank you for reminding me that good exists everywhere. Thank you for helping me unfurl my fists and let go on my assumptions, biases and preconceived notions. I was the one with the bad attitude – not you.
And thank you for your warm hospitality and the nudge to consider: What else am I clinging to falsely? Time to open my eyes and heart and seriously listen to God, letting his light shine on what else needs to go. Quite a lesson I got this past week and I am grateful for what I learned.
Have you had a time where you realized your assumption was wrong?