We all struggle with life's questions: Why am I here? How is God's love different from human love? How do I know what is the right thing to do?
I fully believe that delving to the depths of these questions is part of our spiritual formation process.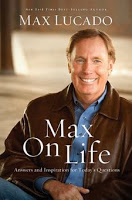 One of my favorite writers –
Max Lucado
– has written a new book:
Max on Life

– Answers and Insights to your Most Important Questions.
I am received this book in exchange for posting a review but this has not influence my feelings about this book.
Lucado tackles some of life's most difficult questions and provides concise and compassionate answers. This is what I both like and dislike about this book. Most of his answers are one page long – too short to really go into much depth.
But again Lucado's brief answers are full of wisdom, easy to digest, and provide much food for thought. None of us have the complete answer to most of these questions and Lucado gives us nuggets of truth to at least take the next step in our faith walk.
My most favorite section of the book, though, is the appendix for writers, full of encouragement and inspiration.
"Good words are worth the work. Well-written words can change a life Words go where we never go. Africa, Australia, Indonesia…Written words go to places you'll never go and descent to depths you'll never know."
This book would be a great addition to a small group or individual journey. I recommend it.